High Pressure Control Valves Ideal for Chemical Injection
An ultra-high pressure control valve which is designed to operate on applications with up-stream pressures of up to 60,000 psi is the latest addition to the Badger Meter Control Valve range.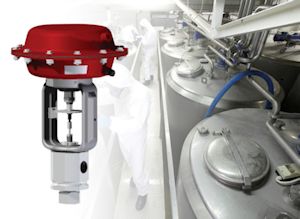 Pump Engineering Ltd
Available in the UK through liquids handling specialists Pump Engineering, the Type HP-60 control valve utilises a 17-4 PH body along with a solid Stellite inner valve assembly.
The HP-60 valve is ideal for use in industrial research and process pilot plants on liquids and gases, with typical applications being chemical injection, for example in the production of high pressure, low density polyethylene (HPLDPE).
Standard features include, pressure rating to 60,000 psi (4135 Bar) @ 100º F, a wide range of interchangeable trims, choice of linear or quick opening trims, ANSI Class lll shutoff (size P-1 through P-9) and ANSI Class lV shutoff (size K through O). The inner valve (plug and seat) is constructed from solid Stellite while Titanium Nitride coated Stellite is available as an option. Standard packing is Torlon/PFA CV rings.
The valves can be supplied with standard (air-to-open, air-fail-close, air-to-close, air-fail open) actuators. However, actuators in Stainless Steel with integral top mounted positioner or side mounted positioner, are also available. A wide range of accessories, such as filter regulators, gauges, I/P converter, limit switches and solenoids, are also offered.