Hermetically Sealed All-Ceramic Chemical Pump by Bungartz
The centrifugal pump of type MPCV has some exceptional properties. Due to the dry-running, self-regulating and hermetically sealed design, the tried-and-tested vertical pump does not require a minimum volume flow or a large static head. The 3-phase compatible and intrinsically safe special pump is now also available as an all-ceramic version (K-MPCV-AN).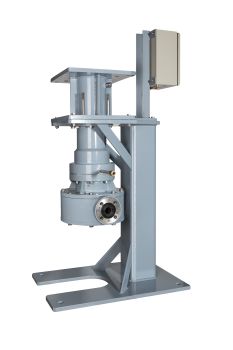 Paul Bungartz GmbH & Co. KG
The chemical pump MPCV was designed for difficult applications. It has proven successful across the globe when pumping extreme media which are at the same time hot, corrosive and abrasive, such as ammonium nitrate with dolomite, iron oxide, gypsum and dust slurries, and much more. The use of SiC ceramic further extends the service life of the sturdy pump. Equipped with a magnetic coupling and roller bearings, which are permanently dry-running, the intrinsically safe K-MPCV-AN operates without bearings in the pumping liquid. The shaft gap seal concept is based on the complete hydrodynamic relief of the bearing and seal unit. Back vanes and a gas barrier prevent product vapors from penetrating the bearing unit. And there is another advantage thanks to the grease-lubricated roller bearings: Service lives of more than 5 years in continuous operation have been proven. Thanks to the eddy current-free magnetic coupling, the pump hermetically seals itself against its surrounding environment. Thanks to the vertical orientation of the pump, the bearing and sealing unit runs entirely without product contact, even in the event of a sealing gas failure. Like all pumps in the V-AN range, the K-MPCV-AN works with the unique control characteristics, i.e. the pumps adapt automatically to variable feed rates. In order to achieve these exceptional properties the new K-MPCV-AN uses the high-performance material SiC. In terms of its structure and properties, silicon carbide is similar to a diamond – in particular with regard to hardness and abrasion resistance. An interesting aspect for the operators is the minimal monitoring requirements, extremely high operating reliability and large maintenance intervals (low-maintenance).