Ham-Let Introduces New Valves and Fittings
Ham-Let introduced its upgraded H-99 Severe Service Needle Valve series and its unique 20% lower torque Oxygen clean Double Ferrule Compression Fittings.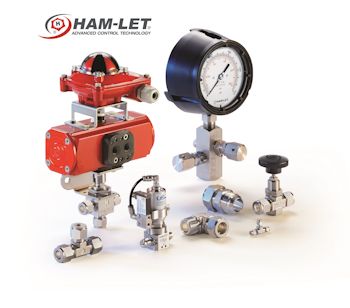 H-99 Severe Service Needle Valve (Image: Ham-Let)
Ham-Let H-99 Severe Service Needle Valves can accommodate for high pressure demands, have high temperature endurance and are suitable for a wide range of applications such as: Refineries, Power-energy, Hydrotreater and Hydrocracker systems. These all-new valves, a new innovation of Ham-Let developed after years of studying market needs, is a combination of 8 different valve series encompassing the benefits of each thus creating one advanced series. They come as standard with: Panel mounting, Stem Seals below Stem Threads, Stem Diffusion Surfaces (choice of standard, regulating or non-rotating stem) and Packing Bolts. These valves are also available in various end connection sizes and different body types, representing a huge advantage in price performance vs. other competitors valves.
Ham-Let Double Ferrule Compression Fittings are silver plated in order to prevent galling between the nut and the tubing in fluid and gas delivery systems. As per costumers request for lubricant free fittings, Ham-Let developed a unique process in which the silver plating is treated as to reduce torque by 20%, thus enabling easier to assemble fittings with special focus on the end user and assembly efficiency. These fittings are used in clean systems and are ASTM G93 Level 6 certified.
The above two unique and innovative products by HAM-LET offer the client the ability to design, construct, assemble and maintain fluid and gas delivery systems with price performance advantage as well as ease of assembly. HAM-LET CEO, Mr. Uri Oliner said: "HAM-LET is proud of its innovations and its success in developing and modifying its technologies in order to make its products safer, easier to use and assemble as well as being affordable to all sectors and companies however big or small."
Ham-Let products are available worldwide through its branches and distributors.
With its two fully owned subsidiaries – Astava, a designer and manufacturer of manifolds, interlocking, instrument enclosures and safety systems, as well as Cambridge Fluid Systems (CFS), an innovative provider of gas and liquid control solutions – Ham-Let enhances its global scale and reach, offering industries around the world its core products and tailor-made solutions, all the way to an extended portfolio.