Grundfos and PUB to Collaborate on Water Technologies and Solutions
Pump manufacturer Grundfos and PUB, Singapore's national water agency have signed a Memorandum of Understanding (MOU) to jointly collaborate on the development of water technologies and solutions.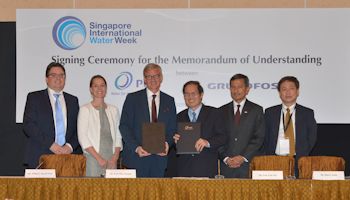 The signing event took place at Sands Expo and Convention Centre where the Singapore International Water Week (SIWW) was being held. The SIWW is a global platform to share and co-create innovative water solutions.
The MOU sets out to support PUB in its mission to ensure a robust and sustainable water supply for Singapore, and to continuously explore new technologies and solutions to meet current and future water challenges. It will create a platform for discussion and exchange of ideas on areas such as water and energy efficiency, water and wastewater treatment, as well as water quality monitoring.
The collaboration will focus on water innovation, including the development and application of high efficient pump solutions in water treatment, R&D in wastewater treatment solutions and disinfection technologies, and applications of in-pipe energy recovery technologies.
"Through continuous investment in R&D, we have developed capabilities and implemented innovative solutions to enhance our water resilience. We also strive to push the envelope in water R&D by working with the private and public sectors. The research collaboration with Grundfos will allow us to tap on Grundfos' strength in the development of pump solutions for water treatment, and at the same time explore collaborations in new areas where Grundfos is venturing to, such as used water treatment to further boost the growing vibrancy of the R&D landscape in Singapore," said Mr Harry Seah, PUB's Chief Technology Officer.
"Through this strategic agreement, Grundfos will support Singapore's endeavours in addressing challenging water issues. These span from the management of scarce water resources to water efficiency management systems for heavy industrial users. Grundfos' Water Innovation Centre in Singapore will enable multi-agency collaboration and information sharing on water and wastewater management and technology, so as to address the impact of climate change and growing economy on global water challenges," said Mr Poul Due Jensen, Group Senior Vice President and Regional Managing Director for Grundfos Asia Pacific.
Signing the MOU on behalf of the two organisations were Mr Tan Yok Gin, Deputy Chief Executive (Operations) of PUB, and Mr Poul Due Jensen. Singapore's Environment and Water Resources Minister, Dr Vivian Balakrishnan, and the Danish Environment Minister, Mrs Kirsten Brosbøl, were present at the signing ceremony.
Picture: (From L-R) Grundfos Research Manager, Mr Wilhelmus Johannes Cornelis van de Ven; Minister of the Environment, Denmark, Mrs Kirsten Brosbø; Grundfos Group Senior Vice President and Regional Managing Director for Asia Pacific, Mr Poul Due Jensen; PUB Deputy Chief Executive of Operations, Mr Tan Yok Gin; Minister for the Environment and Water Resources, Singapore, Dr Vivian Balakrishnan; PUB Chief Technology Officer, Mr Harry Seah