Green Technologies Day 2013: Natural Gas as Bridging Technology
This was already the fourth time Lewa had held the Green Technologies Day. Under the motto "Gas as an energy source – bridge technology to the hydrogen age?", experts from industry and the sciences reported on current research and the use of modern technology in the field, and encouraged the exchange of experiences.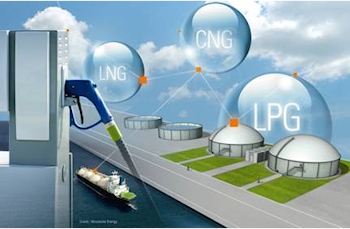 At the fourth Green Technologies Day organized by Lewa GmbH, experts from research and the field discussed the future of gas as an energy source, and options for using LNG and LPG. (Source: Lewa GmbH/ Woodside Energy)
In front of an audience ranging from users from refineries and downstream industries to system builders for liquid gas solutions and Lewa partners, topics including new ways to tank vehicles with natural gas and innovative cryogenic pumps were presented.
Gas as an energy source is a fixed part of the energy landscape now, continually gaining significance as a supply of heat or fuel. Always with an eye on the future of energy supply, the fourth Green Technologies Day comprehensively covered natural and liquid gas, indicating options of bypassing fossil fuels. After a greeting from Dr. Martin Fiedler, member of the executive management of Lewa GmbH, Michael Schaarschmidt, Head of Product Management at Erdgas Mobil GmbH took over. With his talk on "Background to the global natural gas boom and effects on the fuel and vehicle markets," he illuminated the natural gas boom and the risks and opportunities it represents for the German gas industry. He brought up natural gas as a mature alternative to oil with a high potential for CO2 savings, seeing it as a problem solver for vehicle manufacturers. But at the same time, he pointed out the dependency of the transportation sector on oil and price problems that could arise. Christian Steger, CEO of the energy company Scharr Tec GmbH & Co KG, introduced to the fundamentals of liquid gas. Under the heading of "Liquid gas – fossil fuel in the renewable energy sector," he explained the chemical and physical basics of liquid gas, describing applications in which they can be used as energy sources. He indicated a range of advantages, such as high energy density at low volume and the simplicity of the transportation and storage options.
After these introductory talks, the agenda moved to reports of concrete example applications. Werner Hermeling started, with a talk on "The flow-pressure process, a basic process for natural gas tanking and energy storage." Educated as an engineer in chemical facilities and heating systems, he is an engineering consultant who has developed a natural gas filling station as well as an energy storage unit that has already won him several awards. The process he has developed works with extremely cold liquefied gas, for example methane. Using a special valve arrangement, the liquid material can be regasified purely using ambient heat, thus generating high pressure without losses. It is then stored in high-pressure storage units and can be used in a flow-pressure filling station for filling vehicles or in the energy storage unit that Hermeling has developed to drive turbines.
A technology that is particularly interesting for the transport of liquid gas was addressed by Rainer Dübi, Head of the Design and Manufacturing Department at Burckhardt Compression AG, in his talk "Compression systems for ship engines run on gas". He outlined the problems that can occur during the shipping transport of liquid natural gas due to temperature fluctuations that lead to evaporation losses, so-called boil-off gases. Using the Laby compressors developed by Burckhardt, these gases can be reliquefied without oil in a contact-free manner, or used as fuel.
Fabien Wahl, Head of Business Development and the Research and Development Department at Nikkiso Cryo Inc., gave a talk entitled "Cryogenic pumps for liquified gas" concerning sustainably developed cryogenic pumps that are outstanding for their high efficiency and long service life. They offer effective solutions for liquefaction, regasification and vehicle tanking. The pumps are especially environmentally friendly because, due to their energy-efficient design, they require no special cooling and no special lubrication.
A final podium discussion collected discoveries and impressions from the talks and they were discussed among the roughly 40 members of the audience, with an eye to the future.
"Especially the topic of mobility has taken on broad importance," reports Thomas Bökenbrink, Product Manager at Lewa. "What concepts can be implemented and how can we ensure the acceptance of new technologies? A natural-gas car has to be filled up differently than a conventional one. The result is that there is often a lot of skepticism about this technology among consumers."
"The energy revolution isn t comfortable," agrees Rainer Sonnenfroh, a salesman in the process industry sector. "It offers a lot of opportunities, but brings risks, too. The talks and the resulting discussions especially highlighted that it is really up to politicians to work out strategies for the future. This is the only effective way to work with new energy sources."
The participants of the 4th Green Technologies Day came to the consensus that gas as a bridge technology is a thoroughly reasonable solution, but only for a while: "The bridge we build with gas as an energy source shouldn t be too long," explains Bökenbrink. "Fossil fuels are being burned that harm the climate. In the long term, we just can t get past the need for renewable energy sources."
To round off the day, after the talks and discussions there was an opportunity to get to know the Lewa plant.