Franklin Electric Introduces Enhanced PowerSewer System & Innovative Dual Seal Grinder
The redesigned and enhanced FPS PowerSewer System is a more flexible, service friendly, and efficient system for residential applications. This low-pressure sewer system pumps residential and commercial wastewater to a collection or treatment area, making it a proven alternative to gravity sewer systems and septic tanks.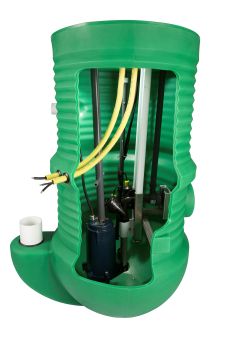 Franklin Electric
The basin's internal C-Channel assembly releases from the top of the unit, simplifying accessibility to and maintenance of its components. The updated design of the new tank also provides for easy access and replacement of all other internal components. The float tree is spring loaded and easily removable, with a progressive lift handle to simplify pump removal. In addition, the redesigned FPS PowerSewer System features an isolated pump support that can accommodate heavier pumps for expanded applications. This provides added installation flexibility through the compatibility with the entire line of Franklin Electric FPS 2 hp grinder pumps, including the new FPS IGPDS Dual Seal Grinder Pump Series, and any single phase, three phase, manual, or automatic version of Franklin Electric's high head grinder pumps. Inclusion of the FPS high head grinder allows the updated FPS PowerSewer System to produce a maximum shut off head of 200 feet, with a maximum flow of 35 gpm.
The new FPS IGPDS Dual Seal Grinder Pump Series delivers increased pump security and performance ideal for commercial and high-end residential applications. The IGPDS Dual Seal Grinder Pump Series utilizes two mechanical seals, coupled with sensor probe and seal leak detection circuitry in the panel, to provide added pump protection that can extend the overall pump life. If water enters the oil chamber, a light in the control panel will illuminate and indicate that the first seal requires replacement. The second seal continues to protect the pump so that it can maintain full functionality until the first seal can be changed. Upon the replacement of the first seal, the pump can be put back in service at peak performance levels. It efficiently pumps sewage slurries up to 130 feet and features a patented cutting system that grinds at 414,000 cuts per minute.
The FPS IGPH Series of high head grinder pumps are engineered for the tough demands of higher head conditions found in many low pressure sewage transfer applications. Available in an automatic or manual version, the FPS IGPH Series of high head grinder pumps utilize a proven and patented cutter system with tight clearances for superior grinding at 414,000 cuts per minute. These new units incorporate two non-clogging impeller stages for efficient pumping of sewage slurries with a shut-off head of 200 feet. With only 16 full-load amps at minimum head requirements of 100 feet, these units can replace other grinders that fail to meet current application needs.