Finish Thompson SP Series of Magnetic Drive, Self-priming Centrifugal Pumps
Reliable, leak-free, low-maintenance pumping has always been essential in many process applications, particularly when 'challenging' liquids like corrosives need to be transferred safely and efficiently. Magnetically driven pumps are ideal for these types of duty as they have no rotating
seals to fail so the risks of downtime and lost production are minimised, as are the problems of cross contamination, or wastage of the pumped fluid.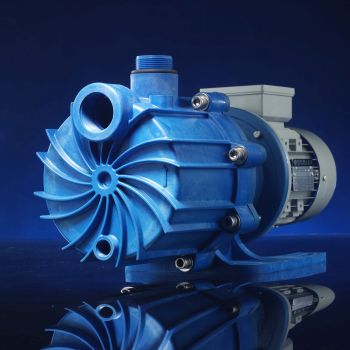 Michael Smith Engineers
A good example of this type of pump is the Finish Thompson SP series of magnetic drive, self-priming centrifugal pumps, available from Michael Smith Engineers. The SP Series are well proven in many demanding applications as they offer a fast, reliable and powerful performance with corrosion-resistant materials for harsh environments. The range consists of four models which provide maximum flow rates up to 45 m3/hr and maximum differential heads to 37 metres.
SP self-priming pumps combine deep lift capabilities (dry lift pumping up to 7.6 metres) and fast priming (5.5 metres in 90 seconds) with the important advantages of magnetic drive technology; no seals to replace and zero leakage. Another benefit when SP pumps are supplied with a
carbon bushing is they can be run-dry for extended periods without damage, meaning no catastrophic pump failure in the event of a process upset.
In addition to their superior lift capabilities, the SP Series incorporate powerful neodymium magnets allowing them to pump fluids with high specific gravities up to 1.8, such as sulphuric acid, phosphoric acid and sodium and potassium hydroxide. Reliable, low-maintenance and safe
operation is also assured thanks to the SP Series magnetic drive technology.
The pumps are available in a choice of Polypropylene or PVDF which results in a tough and durable, corrosion resistant pump. Maximum operating temperatures are 82°C for the polypropylene version and 104°C for the PVDF version.
SP Series pumps can be mounted to most standard motors, while NPT or BSP threads, adjustable flanges or union connections make it easy to connect to most process systems resulting in reduced installation cost and time.
Typical applications include sump emptying, transferring from underground storage tanks and tanker trucks, pumping in systems that are liable to have trapped or entrained air or in process systems where run-dry protection is needed.