Faster Pumping Down with New Vacuum Pump
The new vacuum pump N 920 from KNF Neuberger pumps down very efficiently, with great process reliability. This is made possible by an innovative diaphragm stabilization system…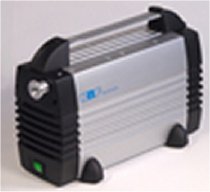 Diaphragm vacuum pump N 920 with new technology
which the patent has been applied for.
It ensures outstanding suction speed, especially at low absolute pressures. Additionally, it provides a high degree of long-term vacuum stability.
Thanks to the diaphragm technology, this pump transfers and pumps down analytically uncontaminated. It is available in both a portable version (in a compact housing) and an OEM version for mounting. The OEM version is powered by AC and DC drives. The portable pump automatically adjusts to voltage levels ranging from 90 to 264 volts, at 50 or 60 Hz. This means the pump can be used flexibly and it can be procured easily by internationally active corporations. It can be equipped with an optional potentiometer or external signal input for adjusting the flow rate.
The suction speed of the diaphragm vacuum pump N 920 is up to 1.3 m³/h at atmospheric pressure, the ultimate vacuum is < 1.5 mbar abs.