Emotron Has Received the Helsingborg Environmental Prize
16.06.2009
Electric motors account for a large share of the electric energy used in industrial and municipal processes. The Swedish company Emotron offers solutions that can make consumption savings of up to 50 per cent.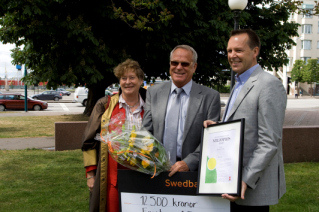 Energy Efficiency Advisor, Bo Andersson, received the prize from Carin Wredström, chairman of the municipal council. To the right: Lars Thunberg, chairman of the Environmental Committee.
The city of Helsingborg, where Emotron's head office is located, has now awarded the company the environmental prize for contributions to saving energy and consequently to reducing the impact on the climate.
Electric motor driven systems represent 70 per cent of electrical energy consumption in EU-based industry. Emotron offers technical solutions that can reduce energy consumption by up to 50 per cent. The company also promotes energy efficiency as an endorser of the EU's Motor Challenge Programme and as a member of the Swedish Energy Efficient Companies.
Philip Schwarz, President & CEO of Emotron, sees the Helsingborg environmental prize as a great honour.
"It means a lot to have our work acknowledged by Helsingborg, the home town of our company as well as many of our employees. We have, for many years, helped municipalities and industries around the world to save energy, and have received European awards for our engagement. Still, few in Helsingborg know who we are or what we do."
Philip Schwarz hopes this reward will contribute to the company being better known locally.
"We hope this will help to spread the knowledge of great energy saving potentials, and that the solutions are developed and produced here in Helsingborg."
Two are awarded for energy savings
The municipal council of Helsingborg decided in 2008 to give out an annual environmental prize. The prize is awarded to a local organisation, company or individual who has made significant achievements for the environment, with emphasis on the contribution to implementing the city's environmental programme. This year, the award focused on energy savings due to its importance in improving the climate situation by reducing carbon dioxide emissions. The prize is shared between Emotron and Mrs Ann-Cathrine Karlsson, for her engagement in developing systematic environmental work at Helsingborg hospital, resulting among other things in energy savings of 20 per cent.
Prize money is donated to WWF's climate work
The prize was given on 5 June, in connection with the city's celebration of World Environment Day. Emotron was represented by the Energy Efficiency Advisor, Bo Andersson. The cheque was handed over by Carin Wredström, chairman of Helsingborg municipal council.
"We are very proud to receive this prize and it encourages us to continue our efforts. We will donate the prize money to the World Wide Fund for Nature, to support their climate work," said Bo Andersson.
About Emotron
Emotron is a Swedish company which develops solutions for protecting and controlling processes and equipment driven by electric motors. Customers benefit from energy savings, reduced maintenance and improved productivity. Targeted industry sectors are water/wastewater, machine builders, mining, cleantech, infrastructure and process industry. The product portfolio comprises variable speed drives, softstarters and shaft power monitors.
Emotron focuses on three selected application areas:
Flow control – pumps, fans, compressors, blowers
Material handling – cranes, crushers, mills, mixers, saw mills, conveyors
Lift control – passenger lifts
In the last 30 years Emotron has grown to become a global group with 170 employees and a turnover of 40 million euros. Development and manufacturing resources are located in Sweden, the Netherlands and Germany. The company has its own sales organizations in Sweden, Benelux and Germany, offices in China and Latin America, and a worldwide network of distributors and service partners.