Edwards Installs Its First New Generation Steel Degassing System in India
20.10.2009
Edwards has won an order worth more than £200,000 for its new generation steel degassing system in India. This is the first system of its kind in the country and has been installed at Shyam Forgings Pvt in New Delhi.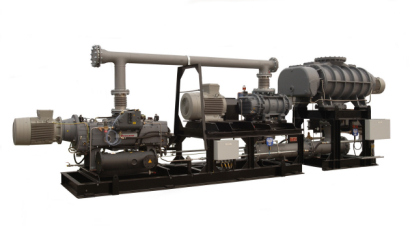 Edwards
It is being used to perform Vacuum Oxygen Decarburizing (VOD) in a production environment and offers potential energy cost savings of more than 90 per cent over traditional steam ejector systems.
The single steel degassing module is being used to run the Vacuum Degassing (VD) and VOD processes to produce large degassed and decarburized castings of up to 30 tons for Shyam Forging's customers. The customers then use the castings to produce large machinery components for the power generation and industrial markets across Asia.
Both ultra low carbon steels (less than 0.02% carbon by weight) and low carbon stainless steels (< 0.02%) are processed through the VOD system in up to 13 ton melts for subsequent casing and machining at customers' facilities.
Edwards' dry pumping technology enables users to produce higher quality products with significantly reduced operating/energy costs. At the same time customers are able to improve their environmental impact and carbon footprint through reducing CO2 emissions, water effluent and energy use.
"Global demand for steel is growing rapidly and we are delighted to have completed our first commercial VOD processing installation in India," says, Vikrant Sanglikar, Country Head – South Asia, Edwards. "The successful demonstration of this vacuum decarburizing process using our dry pumping systems will allow us to confidently move forward into the larger VOD based process applications and address a growing market need."
"The Edwards system was installed after extensive product and preproduction testing at our plant throughout the year and we are very impressed with the results so far," explains Nitin Agrawal, Managing Director, Shyam Forging. "We're now able to produce higher quality steels and in larger quantities to better serve our customers."
About Edwards
Edwards, whose 90th anniversary is in 2009, is a leading supplier of integrated solutions for the manufacture of microelectronics devices, including semiconductors and flat panel displays. It is also a world leader in vacuum technology for industrial, scientific, process, and R&D applications. Edwards employs around 3,000 people globally, in the design, manufacture and support of high technology vacuum equipment. Edwards invented the concept of the commercial oil-free 'dry' vacuum pump and now supplements this with a wide range of other pumping technologies as well as related products and services.