Dry Running Sealless Magnetic Driven Chemical Pump in Thermo Plastic Materials
One of the biggest problems when using pumps is dry running, up till now; there have been no solid answers.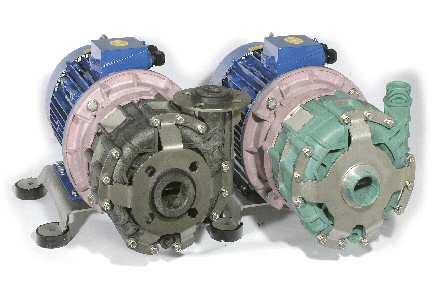 Never intentional, dry running occurs when, either the outlet valve is closed, the supply source runs dry or a filter is blocked. All too often operator error is the underlying reason and a catastrophic pump failure can result.
The ARGAL "Route" range of Seal-less Magnetic driven Chemical pumps can accommodate dry running when fitted with Carbon HD bearing bushes!
These pumps incorporate a patented "Two axial direction self alignment system" which introduces a secondary magnetic field to hold the impeller in a neutral position avoiding friction and an increase in heat. With this system dry running times of over one hour are achievable!
The pumps available from ARGAL Distributor "The Pump Company Ltd" come in GFR-PP (glass fibre reinforced polypropylene) and CFF-E-CTFE (Ethylene Chloro Trifluoro Ethylene carbon fibre).
The pumps are suitable for most chemicals and cover a wide temperature range, with flows up to 48m3/h and heads of 40m.
Pumps comply to ATEX directive.
A number of magnetic couplings are available to suit specific gravities from < 1 to 1.8.