Diesel-driven PAS 6 Pump from Atlas Copco Helps Empty and Clean Lake
When the Danish construction company Jokobsen & Blindlilde A/S was contracted to clean up a lake close to a residential area, they rented an Atlas Copco PAS 6 from GSV Materieludlejning. The pump was used to empty the lake and keep the area dry during the maintenance work.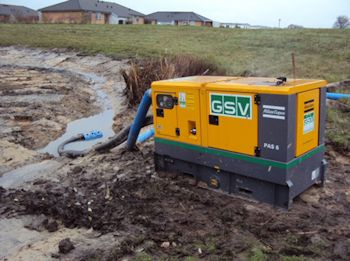 The diesel-driven PAS 6 is just one of the many Atlas Copco pumps in GSV Materieludlejning s fleet. (Image: Atlas Copco
GSV Materieludlejning A/S is one of Denmark's oldest rental companies for contractor equipment. The 50-year-old company has a large, versatile fleet, including the Atlas Copco PAS 6 diesel-driven pump. Two additional PAS 6 pumps on trailers will be delivered in 2015.
Jokobsen and Blindlilde works on general contracting, major construction contracts and restoration projects, including earthworks, sewerage and concrete work, all over Denmark.
The small lake, located near Middelfart on the island of Funen in Denmark, is being dredged to purify the lake of sludge as part of the Danish government's plans to meet EU standards.
Jokobsen and Blindlilde chose to work with an Atlas Copco PAS 6. The pump has a flow of 80-500 m3/h or 1333-8333 l/min and can handle abrasive materials up to 76 mm in diameter. If a blockage occurs, a suction hose can be used. The maximum noise level is 66 db(A) and the working engine speed is 1200-2000 rpm. The priming system consists of an oil-free, water-resistant membrane vacuum pump. Its large range of accessories includes connections for external fuel tanks as well as a trailer with an adjustable connecting rod.
"Draining water from the lake went very quickly, taking about an hour," says Henrik Christensen, Product Manager at GSV Materieludlejning. "The lake will now be kept dry so that our client can remove the mud and create a new bed. In this context it s a big advantage to be able to regulate the engine speed. The machine runs idle with the lowest possible engine speed and pumps away the autumn and winter water."
"There are many advantages to choosing Atlas Copco equipment for our rental fleet," explains Christensen. "One of them is that the PAS 6 pump is compact compared to its capacity. At the same time, it s silent, fuel-efficient and meets strict environmental requirements. The pump fits in well in our overall machinery fleet and is easy to maintain. It has the same Kubota motor as our generators and since many spare parts are identical to those found in alternators, we already have them in stock. It s a big advantage for both logistics and profitability."
Typical applications of the PAS 6 include watercourse diversions, drainage of building sites and quarries, and flood recovery. It can also be used for repairs of sewage pipes.
"We developed the PAS range of diesel-driven pumps to ensure fast and reliable dewatering for a wide range of applications," says Fredrik Alund, Business Line Manager, Atlas Copco Portable Energy. "Their high performance and minimum operating expense has made them a good choice for rental and dewatering contractors."