Customizable Progressing Cavity Pumps
The new ACNBP-Flex and ANCP-Flex series of progressing cavity pumps from Allweiler AG exhibit modular designs that allow them to adapt quickly to a variety of pumping tasks. New production methods and materials also make them cost effective.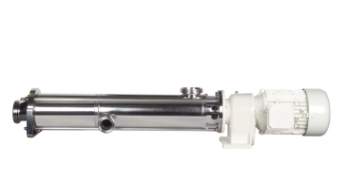 Allweiler
For example, the pumps can now be outfitted with a wide variety of options or alternative branch positions without incurring significant additional costs. Thanks to their modular design and optimized materials, the new progressing cavity pumps from Allweiler can be easily adapted to a wide variety of conditions. According to Dr. Ernst Raphael, director of the Bottrop plant: "The new Flex pumps give our customers individualized solutions. Yet they still enjoy faster delivery times and attractive prices."
These new "flexible" pump series are advanced developments of proven designs. The pumps are suitable for moving thin to highly viscous or pasty liquids with a viscosity of up to 150,000 mm²/s. The liquids may even contain fibrous or abrasive solids. Approximately 20 different stator materials are available, allowing Allweiler to specifically target a particular liquid s chemical properties. All parts that contact the liquid are made of stainless steel. The pumps are CIP-capable, making them ideal for applications in the food, beverage, and cosmetics industries in addition to chemical-related uses. Maximum discharge pressure is 12 bar; capacity is as high as 480 l/min. The design complies with the regulations of the 3A Sanitary standard and the stator elastomers are delivered with FDA certification.
These new progressing cavity pumps can be delivered as turnkey units including the required drives, with either a base plate or in block configuration. They utilize proven, standardized components that save the customer time and money.
About Allweiler
Allweiler AG is the oldest German pump manufacturer and the European market and technology leader for centrifugal, propeller, screw, progressing-cavity, cogwheel, rotary lobe, macerators and peristaltic pumps. Headquartered in Radolfzell and with locations in Bottrop and Gottmadingen, Allweiler owns a foundry, produces its own stators and manufactures ready-to-use fuel and lube-oil skids and rinsing-water facilities for commercial marine, oil & gas, chemical processing, specialty chemical and waste and wastewater applications.
About Colfax Corporation
Colfax Corporation is a global leader in critical fluid-handling products and technologies. Through its global operating subsidiaries, Colfax manufactures positive displacement industrial pumps and valves used in oil & gas, power generation, commercial marine, global naval and general industrial markets. Colfax's operating subsidiaries supply products under the well-known brands Allweiler, Fairmount Automation, Houttuin, Imo, LSC, Portland Valve, Tushaco, Warren and Zenith. Colfax is traded on the NYSE under the ticker "CFX."