Qdos 60 PU Peristaltic Pump Doses Polymer for Three Years Without Leaks and Maintenance Downtime 
A Qdos 60 PU peristaltic pump has completed three years of maintenance-free operation without any messy leaks of polymer in a trial at the City of Oak Ridge water treatment plant in Tennessee, United States.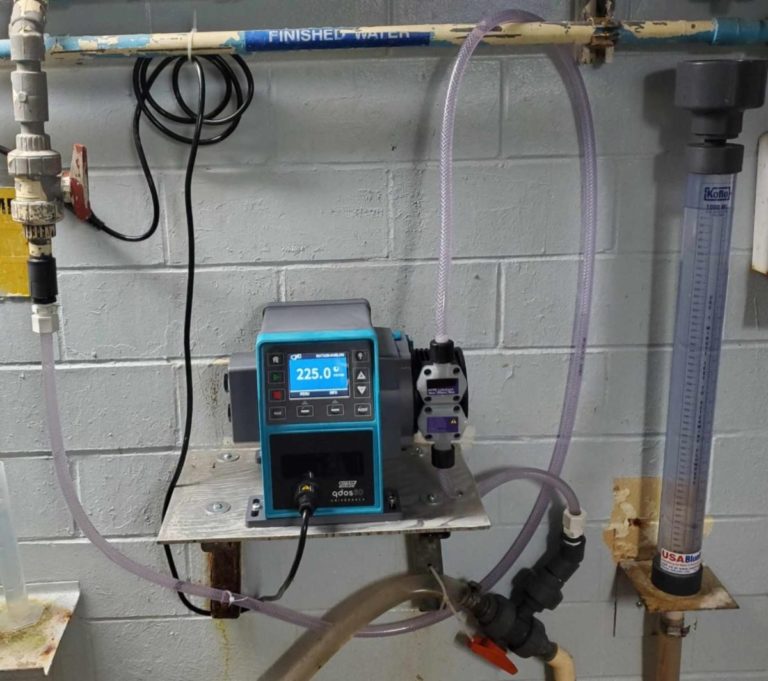 Qdos chemical dosing pump eliminates risk of polymer leaks at Tennessee water treatment plant. (Image source: Watson-Marlow Fluid Technology Solutions)
A Qdos 60 PU peristaltic pump has completed three years of maintenance-free operation without any messy leaks of polymer in a trial at the City of Oak Ridge water treatment plant in Tennessee, United States.
The prototype Qdos 60 PU peristaltic pump with ReNu PU (polyurethane) pumphead is dosing polyaluminum chloride, a polymer used in water purification which enhances flocculation and coagulation of pollutants (the clumping together of fine particles), in a trial that began in May 2020.
In his role as plant manager at the City of Oak Ridge water treatment plant in Tennessee, Mark Terry did not have to stop production for maintenance downtime or deal with a polymer leak—which are expensive and time-consuming to clean up—from the pump in over three years of using Qdos 60 PU.
The Qdos 60 ReNu PU pumphead, designed for polymer dosing, has performed without replacement and provided efficient, safe, leak-fee and reliable polymer metering.
"The Qdos 60 pump that is used to feed coagulant—a polyaluminum chloride polymer called DYPAC 5461—and the prototype pump head that we were given to try out from Watson-Marlow has been absolutely amazing," said Terry.
"The pumps that we previously used to add coagulant into our facility's raw water were quite old and, from time to time, were prone to clogging. We decided to use a Qdos 60 PU pump based upon the specifications provided for the pumps and, to this point, we have not been disappointed with the performance of the Qdos pump in the least.
"We installed and began feeding our coagulant using the Qdos 60 and ReNu PU pumphead on May 14, 2020. Other than when our facility has been shutdown due to temporary power outages or something along those lines, and usually not for more than one to three hours at the most, the Qdos 60 pump and the prototype pumphead has run almost non-stop for three years.
"Our plant purchased another Qdos 60 pump to act as a back-up to the Qdos pump that we began using in May 2020, but, to this point, the new pump has not been used as the initial pump and the original pumphead that it came with have been in almost non-stop service since mid-May 2020."
The Qdos 60 PU offers precise and repeatable flows for many hard-to-handle fluids, including viscous fluids and aliphatic hydrocarbons, at linear flow rates of up to 60 L/h (15.8 GPH) and pressures of up to 5 bar (73 psi). The ReNu pumphead is a single, safely contained component for rapid no-tools maintenance​ ​with no additional valves to fail, or vapor lock.
"The two most obvious benefits that the Qdos pump has provided to my water treatment plant is that we've basically experienced no polymer leaks since the Qdos pump was put into service and the fact that, aside from occasional calibrations, the pump has maintained a very consistent and accurate feed rate of the coagulant that we add to our raw water," Terry said.
"Low maintenance and non-stop running of the Qdos pump at our facility is vitally important because our plant, aside from a few unplanned episodes, runs 24 hours a day, seven-days-a-week. Based upon these realities the Qdos pump has been a great choice for the needed application."
Benefits of the Qdos 60 PU include:
Excellent compatibility for complex polymers including polyacrylamide (PAM) and other flocculants and coagulants used in wastewater treatment
The contained pumphead design with integral leak detection reduces wastage and eliminates operator exposure to chemicals
Precision dosing of ±1%, even under varying conditions, minimizes chemical expenditure
Low- shear, gentle peristaltic pumping protects polymer chains and consistency, maintaining product integrity
Oak Ridge water treatment plant is using seven Qdos peristaltic pumps (both 30 and 60 models) to feed chemicals such as 20% sodium permanganate, 12.5% sodium hypochlorite, fluorosilicic acid and a poly/orthophosphate corrosion inhibitor to the plant's current coagulant.
"The Qdos 30 pump that is used to feed fluorosilicic acid at my water treatment plant has performed admirably considering the pressure it works against and because of the corrosive nature of the chemical, like the hypochlorite feeding Qdos 60 pumps," Terry added.
Oak Ridge is also replacing the existing 1943 plant that provides the city's drinking water with a new facility to treat up to 12 million gallons of water per day and provide water to 31,000 residents. The new plant will be ready to provide water by Spring 2025 and will be using ten Qdos 60s to pump a variety of chemicals for water treatment such as hydrogen peroxide, sodium permanganate and fluoride. In addition, WMFTS will also be providing two Bredel Apex 15 pumps for sodium hypochlorite.
Chris Miller, District Sales Manager at Watson-Marlow, said: "Oak Ridge was having problems with their older diaphragm pumps so I suggested a trial on our Qdos 60 PU. It's definitely been one of our great success stories and in working with the engineer and city, we are excited to see that Qdos will be the chem feed pump of choice for the new water plant."