Colfax's Allweiler Brand Takes Third Place In State Environmental Competition
Colfax Fluid Handling announced that its Allweiler brand, based in Radolfzell, Germany, has been awarded third place in the Baden-Württembergian state competition for environmental technology in the Measurement, Control, and Regulation category.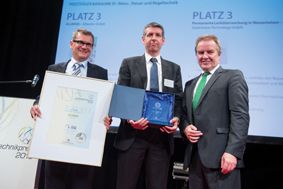 from left: Hartmut Schnell, Environmental Protection Officer Allweiler GmbH, Gunter Connert, Director of Direct Sales EMEA Colfax Fluid Handling, Franz Untersteller, State Minister of the Environment (Image: Colfax)
Its entry was an advanced electronic condition monitoring and control solution for pumps known as Allmind.
Allmind is a new "smart" platform that intelligently monitors and controls pumps in order to achieve a high level of efficiency. Continuous diagnosis of the pump complements Allmind s capabilities. The results can be dramatically lower maintenance and energy costs, elevated safety, and – when used with a frequency converter – optimized control for bringing the pump to the desired operating point.
"Allmind can significantly reduce total costs (TCO), yet is more affordable than similar systems, so it quickly pays for itself, even when used with smaller pumps and standard pumps," according to Manfred Schulz, Director of Distribution Sales EMEA at Allweiler.
Allmind can be configured to trigger specific reactions for individual pumps, such as reducing speed and continuing operation at a safe operating point. Allmind allows operators to plan ahead for maintenance and repairs, thereby avoiding unplanned production downtime and consequential damages. The system stores all sensor values and makes them available for evaluation purposes.
The State Ministry for Environment, Climate and Energy in Baden-Württemberg awarded the prize for Environmental Technology to companies with their headquarters or a subsidiary located in the state. It is granted for outstanding and innovative products in environmental technology. Product entries must make a significant contribution to resource efficiency and environmental protection, and be close to market launch or on the market for no more than two years. The 2013 awards were presented by Franz Untersteller on July 11.