ClydeUnion Pumps Receives First Healthcare Contract for Aftermarket Services for Existing Pumps on Dubai Plant
In January 2013, ClydeUnion Pumps was awarded a healthcare contract by EPPCO Aviation to inspect, overhaul and refurbish three David Brown DB34 pumps and 450 kW motors for transportation of aviation fuel from the EPPCO Jebel Ali refinery to Dubai International Airport.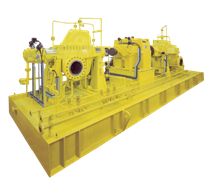 DB34 Pump (Image: ClydeUnion Pumps)
This unique contract is the first of its kind for ClydeUnion Pumps Middle East FZE and will ensure availability of the pumps at all times and generate valuable first hand primary data on pump set performance for a period of two years. Included in the agreement is two years of healthcare checks incorporating monthly inspection of vibration, alignment, mechanical seal and motor condition.
Planned inspections, overhaul and refurbishment of the pumps and motors will also be carried out along with the provision of any spares required for overhaul.
The pump overhaul will be carried out at the SPX service centre in Jebel Ali Free Zone, Dubai, UAE.
"This success is a direct result of our renewed focus on our large installed base in the Middle East and in particular the downstream market for ClydeUnion Pumps", said Brian Edwards, ClydeUnion Pumps Regional Director. "Our technical service and aftermarket teams continue to provide excellent added value services into the Middle East market and will ensure future growth for our high quality products and services."