Bridge rehabilitation in Austria with WOMA's 600-HP pump
An interesting bridge rehabilitation project in Vienna was successfully run with WOMA's high-pressure pump type 6001. The carrier frame of the reinforced concrete bridge needed an extension. It was, therefore, required to expose part of the steel reinforcement of the edge beam.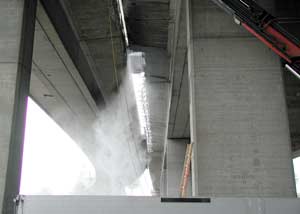 (Hydrodemolition job, Source: WOMA)
The part to be demolished had a width of 1.2 metre, and a length of 100 metres. The thickness of the beam was up to 30 cm. Thus, a concrete volume of 36 m³ was selectively removed. The work was done by a hydrodemolition robot.
WOMA's 600-HP pump was mounted on a truck under a sound insulated hood. The system was very movable and flexible. At a pressure of 1250 bar, the pump delivers a volumetric flow rate of 185 l/min. The contractor's comment about WOMA's 600-HP pump: ''As always, our 6001-pump ran without problems and contributed to the successful job.''