Bitzer Introduces Warranty Extension Packages
Compressor specialist Bitzer introduces complimentary one-year individual warranty extension for IQ products, which is extendable up to an overall guarantee of five years. For non-IQ products, specific warranty extension packages are now available in the 2018 official price list.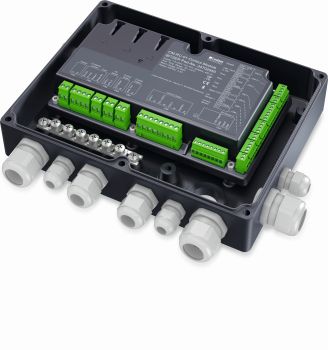 Bitzer IQ products like the IQ Module CM-RC-01 increase the efficiency and reliability of any system (Image: Bitzer)
Bitzer stands for quality and customer-oriented solutions. This is why the long-standing company is now introducing warranty extension packages exceeding the legally required warranty of 12 months for most of its products with additional benefits for IQ products.
As of 1 January 2018, customers benefit from a complimentary one-year extra warranty on all Bitzer IQ products bought starting from this date – exceeding the legal one-year warranty. Activation of the free extended warranty is to be carried out by scanning the QR code on the product. Then, customers will be led through the self-explanatory activation process.
Intelligence pays off
Bitzer IQ products include intelligent compressors and condensing units as well as certain components like frequency inverters and operating modules. Philippe Maratuech, Director of Services and After-Sales at Bitzer, confirms: 'We are confident in our abilities and therefore know just how reliable our products with IQ technology are. We want our customers to benefit from this confidence and to strengthen their trust in our intelligent solutions, which is why we decided to grant them one extra year of warranty with the purchase of an IQ product.'
This additional service is available in numerous sales regions on an annual basis and can be extended to an overall warranty of five years: on top of the one-year free warranty on IQ products, customers can extend their warranty if they buy the warranty extension package.
Purely flexible
With the warranty extension, most Bitzer products' warranties can now be extended to a duration of up to five years, for a fraction of the product's price. Product and time span are freely selectable by the customer, which makes the warranty extremely flexible and easy to manage. Bitzer partners get the opportunity to further protect their Bitzer compressors and condensing units, offering their most demanding customers an optimal way of safekeeping their investments.