Bell & Gossett Introduces New Series of Submersible Wastewater Pumps
ITT has introduced its new Bell & Gossett Impact series of high-efficiency submersible wastewater pumps that are designed for use in commercial and building services applications where wastewater or drainage must be disposed of quickly, quietly and efficiently.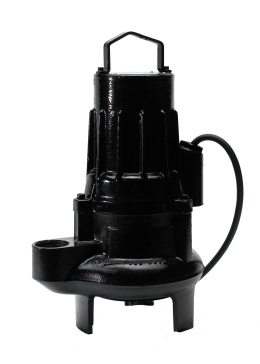 Impact submersible wastewater pump (Image: ITT)
Featuring Bell & Gossett's self-cleaning impeller and casing, Impact Pumps are specifically configured to process solids more easily and reduce clogging while improving hydraulic efficiency. The pumps consume less energy and last longer, even in high demand conditions, and operate at efficiencies exceeding market standards by 10-15%.
Impact MK model pumps process solids easily, which means less clogging and therefore reduced maintenance. Greater durability also contributes to lower operating costs. The air-filled motor, dual mechanical seal and specially designed seal chamber improve overall pump efficiency and durability, resulting in less wear of pump components over longer periods of time, reducing both maintenance and energy costs. The seals also feature better leak detection and hard faces that endure abrasive conditions found in wastewater applications.
For low volume wastewater applications, the Impact MV model features a vortex impeller that is also self-cleaning; in low volume a vortex impeller is also suitable for handling media that contain sand and other abrasive solids.