AxFlow Acquires Crest Process Engineering Ltd – Radstock
AxFlow Limited has announced the friendly acquisition of Crest Process Engineering Limited, Radstock as of the 1st October 2018. The 'Crestpro' business will now be known as AxFlow- Radstock and will continue trading from its current location.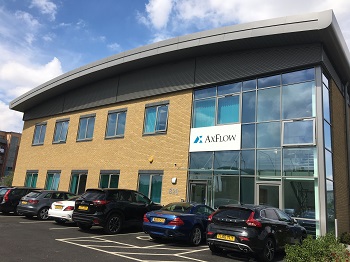 AxFlow's new UK headquarters in Slough. (Image: AxFlow)
Announcing this major development AxFlow Managing Director Tony Peters said that the current shareholders, Ernie Burles and Nick Bolger have become AxFlow employees and remain respectively as Radstock Base manager and Radstock Sales Manager. All other employees have also transferred to AxFlow employment.
Established in 1986 Crestpro has strong presence throughout the South West and South Wales in the field of fluid handling and service support. The company is dedicated to providing all areas of industry with carefully considered, practical and economic solutions to pumping applications.
"The engineering experience and facilities that Crestpro has established over many years is a perfect match for AxFlow, and enables us to give enhanced support for our customers at a local level and also grow our business in the South West of England and South Wales", comments Tony Peters. "The acquisition is of great significance because it also gives AxFlow exclusive distribution of the Argal centrifugal plastic mag-drive pump range and mechanical seals.
Crestpro now becomes AxFlow's South West base, adding to the company's service and engineering bases in Aberdeen, Durham and Huddersfield. All these regional bass are supported from AxFlow's new headquarters in Slough which provide sales, design and extensive engineering services. With the addition of Crestpro the AxFlow company in Great Britain now has 100 employees and a targeted annual turnover approaching £20 million."