Automation Solutions, Inc. Now Representing Jet Edge Waterjet Systems in Mid-Atlantic Region
24.03.2009
Jet Edge, Inc., a leading manufacturer of ultra-high pressure waterjet and abrasivejet systems for precision cutting, coating removal and surface preparation, is pleased to announce that Automation Solutions, Inc. (ASI) has been selected as its new waterjet systems distributor for the Mid-Atlantic region, including eastern Pennsylvania, New Jersey, Maryland, Delaware, metro New York and Long Island.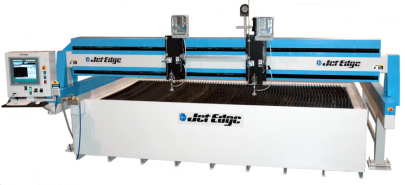 Jet Edge
Located in West Chester, Pa.., ASI is the premier machine tool and factory automation equipment distributor in the Mid-Atlantic. ASI's knowledgeable staff has more than 300 years of combined experience in the machine tool industry, including several years representing waterjet technology.
In addition to Jet Edge waterjets, ASI carries metal cutting and forming machine tools as well as tooling, work holding, rotary tables, accessories and OEM parts. ASI offers automation expertise in robotics, material handling, inspection, and finishing, as well as process engineering, tool and fixture design, programming and complete turnkeys. ASI features a tech center for demos, test cuts, educational seminars and training. Its factory-trained service engineers are authorized to provide installation, repairs, calibration and maintenance for Jet Edge waterjet equipment.
We are very proud to add Jet Edge waterjets to our product line," said ASI Sales Manager Ron Ehrmann. "Jet Edge has an excellent reputation for building precise, accurate and dependable waterjet systems. They also share our commitment to achieving the ultimate in customer satisfaction. In fact, 97% of Jet Edge customers say they would buy from Jet Edge again. You don't earn that high of a satisfaction rating without being 100% dedicated to your customers. That is why we decided to carry the Jet Edge waterjet line."