Automatic Ball Valve Ensures Pump Prime
In this chemical bulk handling application, a ball-type check valve was specified as a foot valve to provide continuous pump prime. The centrifugal pump will not self-prime, and if it runs dry will result in seal failure. Prolonged operation in a dry condition is likely to result in catastrophic failure.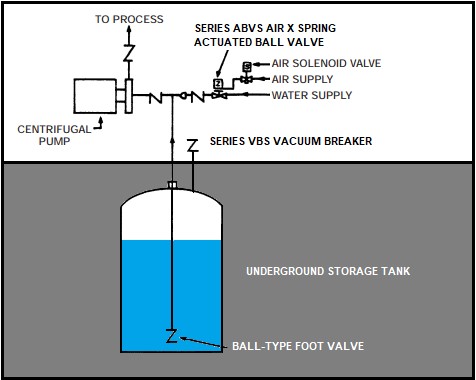 A high-capacity Plast-O-Matic VBS200EPS-PV Vacuum Breaker is used to prevent implosion as the tank drains while the pump is operating. (Image source: Plast-O-Matic Valves, Inc.)
Unfortunately the check valve in the tank would not hold, and the inlet piping to the pump would constantly drain.
To resolve the problem, an emergency priming system was designed to automatically flood the inlet piping, creating a prime for the pump. Plant industrial water is taken into Plast-O-Matic ABVS100EPS-PV Air x Spring Actuated Ball Valve, which is opened by compressed air through an air solenoid valve. When the pipe is sufficiently flooded, a flow switch signals the solenoid to shut off the air supply and vent the actuator. As soon as the air is removed and the actuator is no longer pressurized, the spring return design causes the valve to close automatically.