Armstrong Celebrates Opening of New London Sales Office
Armstrong has opened a new London sales office, to enhance local services for customers in the capital and to provide a base for its expanding Energy Services Team.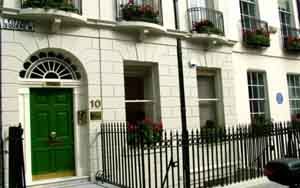 Armstrong
Armstrong has always had a strong presence in London and the south east, but with the growing demand in the capital for its energy audit and efficiency upgrade services, the company has decided to create a dedicated site. The new office, to be overseen by Armstrong's UK HVAC sales director, Paul Tonge, is at 10 Fitzroy Square W1T 5HP, situated conveniently for Euston mainline station and the Warren Street, Euston Square, and Great Portland Street tube stations. It incorporates meeting rooms and offices, providing a base for the Armstrong south eastern region sales team as well as creating a focal point for the Energy Services Team (which has a national remit).
With a new Armstrong office 'on the doorstep', it will be easier for London-based customers to access, at a local level, the wide range of services offered by the company, which extends from energy efficiency audits and upgrades, to sales and technical support and supply of HVAC products and integrated systems. In addition, with excellent transport links, the office will enable the Armstrong team to enhance delivery of these services across the south east and south west.
Richard Strode, managing director of Armstrong commented, "Determination to reduce the emissions of buildings in the capital has led to a steadily increasing demand for our carbon reduction expertise. Our investment in research and development has placed us in an ideal position to assist in eco-aware new build and refurbishment projects and, with the launch of our Armstrong Capital Assist finance solution we are also busy with essential upgrade projects for public sector buildings across London and the south east. Creating an operational base in London will enable us to streamline our own activities at the same time as bringing significant benefits for existing and potential customers."
The company plans to celebrate the official opening of the new sales office on December 19th by hosting a champagne reception for London-based customers and editors from the trade press.