An Optimized Dispenser Series for Even Smaller Quantities
At productronica in Munich, ViscoTec presented its optimized dispenser series for even smaller dispensing quantities.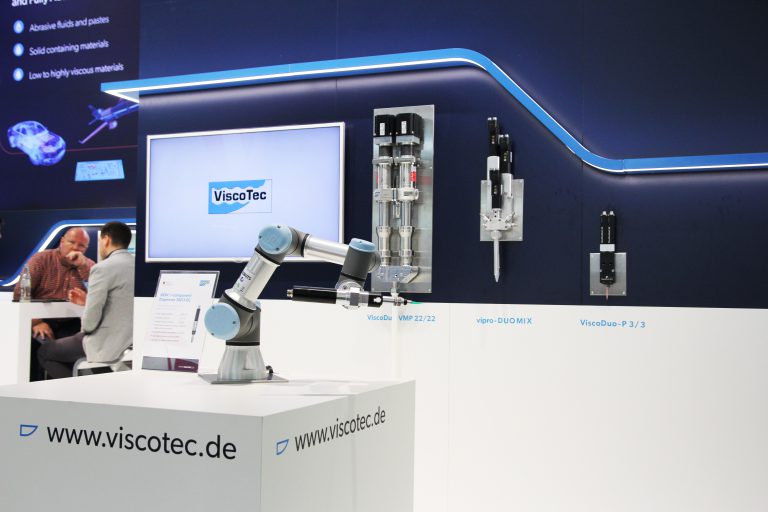 The ViscoTec product innovations at productronica 2020 in Munich. ( Image source: ViscoTec Pumpen- u. Dosiertechnik GmbH)
Both one-component and two-component dispensers have been optimized for the application of very small quantities. From now on even smaller quantities can be dispensed with maximum precision.
The one-component dispenser 3RD3 and the two-component dispenser ViscoDUO-P 3/3 and ViscoDUO-P 4/3 extend the product portfolio of the dispensing technology specialist even further. Minimum quantities of 0.002 ml for the 3RD3 and 0.005 ml for the P 3/3 can be dispensed. As with all previous dispensers, ViscoTec guarantees extremely precise dispensing results with an accuracy of +/- 1 %.
Various stator materials are available for the newly developed products to meet the requirements of different applications. The dispensers are particularly effective in potting applications or for dot and bead dispensing in adhesive and sealing applications. This makes them particularly suitable for the electronics industry, automotive and similar applications.
As with all ViscoTec products, the proven properties of the optimized dispensing pumps are also impressive:
Suck-back option (no dripping nor stringing)
Completely linear relationship between rotor speed and output quantity
Constant dispensing volume, even with fluctuations in density and viscosity
Longer service life
Quick disassembly
Easy programming of quantity and speed
Consistent dispensing quality for low to high viscosity fluids
The two-component versions ViscoDUO-P 3/3 and ViscoDUO-P 4/3 guarantee the static mixing of two components of the same or different viscosity. Maximum flexibility is provided by various combinations of ViscoDUO-P 4/4, 4/3 and 3/3. A parallel arrangement of the two dispensing units ensures a space-saving, compact design. Their modular construction allows a wide range of mixing ratios up to 10:1 thanks to the use of different dispenser sizes. The two-component dispensers are perfectly suited for two-component adhesive materials based on epoxy resin (EP), polyurethane (PU), silicone (Si), acrylate and many others.