ADT Now Shipping TURBOdesign 5.2
Advanced Design Technology announces that its TURBOdesign Suite version 5.2 is now shipping. This version of the company's three-dimensional (3D) inverse design technology software provides a new TURBOdesign Volute module and faster turbomachinery design and optimization capabilities for wider operating ranges and customized solutions.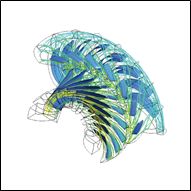 Suite version 5.2 (Image: Advanced Design Technology)
Turbomachinery design engineers and original equipment manufacturers benefit from the 3D inverse design technology in ADT's TURBOdesign Suite.
TURBOdesign Suite is a unique aerodynamic and hydrodynamic 3D design software package that allows users to design, analyze and optimize all types of turbomachinery, such as axial, mixed-flow, or centrifugal pumps, compressors, fans, turbines and torque converters. Using the software, designers evaluate turbomachinery package size and performance predictions, perform detailed 3D blade design with 3D inverse design capabilities, analyze flow information per component, stage performances with turbomachinery specific 3D computational fluid dynamics (CFD), and automate exploration of the design space with automatic optimization capabilities.
"Our 3D inverse design optimization technology provides for innovative solutions while reducing development time and costs," said Professor Mehrdad Zangeneh, founder and managing director of ADT. "TURBOdesign software involves a unique approach that specifies flow related design parameters, which eliminate trial and error and helps engineers view a larger design space. Even new engineers are productive within days. With 5.2 release we bring these functionalities to the design of volutes and casings for the first time."
Fast development of customized design is therefore made possible.
"Carver Pump used ADT's TURBOdesign Suite to speed development of impeller, diffuser and return vane sets for expanding our family of RS multistage ring section pumps," said Mark Post, chief operating officer for Carver Pump. "Exceptional efficiency, good suction performance and stable off-design performance were required for this family of pumps, and TURBOdesign Suite delivered. Now we can pursue even more business that pushes the envelope, because we know we can consistently develop reliable hydraulic designs."
New Features in TURBOdesign Suite 5.2
Volutes and Casings - A unique feature of TURBOdesign Volute is the function to specify circumferentially varying inlet flow angles and velocities, so the volute can be designed for non-uniform inflow. This allows for better matching of off-design conditions and hence higher stage efficiency. The code outputs the 3D volute geometry in IGES format.
CFD - Three other major new TURBOdesign 5.2 enhancements are introduced into TURBOdesign CFD. They are:
Option to analyze high speed applications (transonic compressors and turbines) as well as pumps and fans.
Single-equation Spalart-Allmaras and 2 equation Wilcox's k-ω model.
Parallel computations on multi-core central processing units (CPUs).
Tonal Noise Model- A tonal noise model based on Ffowcs-Williams Hawkins model has been implemented in TURBOdesign1. The model uses the geometry created by TURBOdesign1 and its resulting surface pressures to compute tonal noise. Hence, tonal noise values can be obtained in seconds.
Optimization – The ability to use tonal noise data from TURBOdesign1 in fan optimization has been implemented in TURBOdesign Optima. Furthermore, the function to optimize centrifugal compressors or pumps with splitter blades has been implemented.