A Global Name for a Global Enterprise
S.A. Armstrong Limited has announced a global re-branding which will unite the entire group of Armstrong companies under a single name. The new harmonised company name, Armstrong Fluid Technology, will be used by the group's businesses around the world, creating a unified brand that will represent Armstrong and its employees to our customers, suppliers and partners.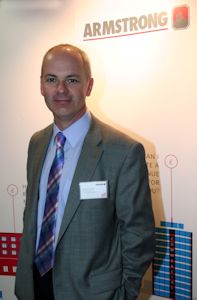 Richard Strode, Managing Director of the UK Operations of Armstrong Fluid Technology
S. A. Armstrong Limited of Toronto, Canada, is a family-owned business founded in 1934. It has expanded steadily throughout its history, and today operates manufacturing facilities in Canada, USA, UK, India and China. Armstrong serves customers through a network of sales offices, supplying solutions and services to homes and businesses in more than 50 countries.
The global re-branding reflects the activities of the company in recent years. With international growth and greater integration many customers engage with Armstrong across multiple countries. A unified brand for all products and services is therefore more representative of how many customers relate to Armstrong. The new global name also recognises a fundamental contributor to the company's success — a long history of service to the building oriented fluid-flow industry — and marks its evolution from a supplier of system components to its current role as a solutions provider.
Richard Strode, Managing Director of the UK operations of Armstrong Fluid Technology, commented, "As the company approaches its 80th year in business it is continuing to grow, and the next stage of our evolution sees us moving from a group of subsidiary companies to a global enterprise. The focus will be, as it has always been, on serving customers. That service will be delivered on a local basis, but for the increasing number of our customers who engage with us in more than one country, the organisation now operates under a single unified name — Armstrong Fluid Technology."