Zuwa Oil Pumps for Cogeneration Units
A cogeneration unit requires an oil change in a two or four week interval - considering the amount of up to 200 litres a time consuming activity. Oil pumps or oil service centres from the Zuwa programme make the oil change a quick and simple job.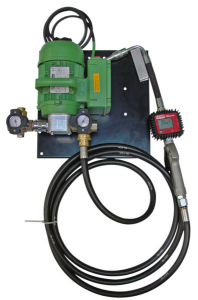 Oil Service Centre (Photo: Zuwa)
Zuwa Impeller Pumps with VITON impellers are the ideal tool when it comes to working with hot oil. The dry self priming pumps do not need to be prefilled. Particles, dirt or sedimentations are transported without causing problems.
Brand new is the Oil Servicecenter, a device also working with an impeller pump. With this station the user can remove waste oil from the engine and fill in new oil in one consecutive go. The Oil Servicecenter is offered in a stationary and a mobile version.
The stationary version is recommended for larger installations and consists of a pump, nozzle and counter. Pump and counter are mounted to a steel plate to be attached to the tank or a wall. The mobile version has pump and tank mounted on a cart. Various probes for dipstick inlets or filler necks with difficult access complete the equipment.
Apart from the oil pumps and the Oil Servicecenters Zuwa shows submersible waste water pumps and flat suction systems at the IFAT ENTSORGA.