Xylem UK Booster Sets WRAS Approved
The Lowara booster set series from Xylem Water Solutions UK has been granted Water Regulations Advisory Scheme (WRAS) approval, and now meets all strict bylaw regulations set out by UK water companies.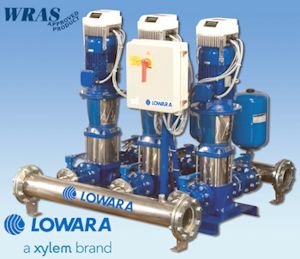 Xylem Water Solutions UK
The Lowara booster sets utilise the latest technology to ensure water is delivered at the correct pressure rate demanded by the application. Each packaged set is suitable to meet the need of all building service applications including domestic dwellings and office buildings through to shopping centres, factories and irrigation systems.
The booster set system is available in a multitude of configurations including fixed speed or variable speed drive by utilising Xylem's innovative Hydrovar pump controller. The booster set series ranges from 1 – 22 m3/h and pumps up to a maximum closed valve pressure of 16 bar as standard, with other sizes available upon request.
In addition, special options such as stainless steel baseplates, control panels and WRAS approved break tanks can also be specified to meet any customer requirement.
Gary Wilde, Business Development and Marketing Manager for Xylem Water Solutions UK, said: "As a world leader in the provision of water technologies, we have a reputation in supplying booster sets which meet the highest standards. After rigorous mechanical testing, to receive WRAS approval is a great accolade and is the best way to demonstrate compliance as it is granted directly by representatives of the water suppliers and is therefore accepted by every water supplier in the UK."