Xylem Launches New High Efficiency Domestic Circulator Pump Lowara Ecocirc
Xylem has launched a new high efficiency circulator pump, the Lowara Ecocirc, specifically designed for heating systems in domestic applications. The new pump can reduce electricity costs by up to 90% compared to traditional fixed three-speed pumps, delivering a payback period of 2-3 years.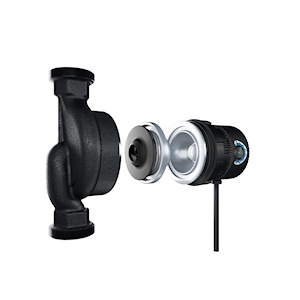 Xylem's Lowara Ecocirc boasts a market leading electronically commutated spherical motor which has only one moving component – the impeller/rotor unit. This means that the pump can perform to its maximum capabilities after any period of inactivity. Older pumps with common shafts in comparison may perform ineffectively and the shaft may seize up if not used on a regular basis.
In addition Lowara's spherical motor design is shaftless and requires only a single self realigning bearing, which not only keeps running noise to a minimum throughout the life of the pump, but also reduces the need for costly/precision components.
The pump features a host of innovative features including 32 bit microprocessor technology; a 3600 rotation pump head with simple screw ring fitting and automatic differential variable speed control performance to 'step-less manual' which maintains a constant set pressure displayed by the LED lights. The variable speed performance meets the criteria set out under the 2015 changes to the ErP directive.
The Ecocirc also features Xylem's 'anti-block technology' which completely separates the main flow of the transferred liquid from the permanent magnetic parts, meaning the pump will never be susceptible to blockages from magnetite or sludge.
The Xylem Lowara Ecocirc boasts 4-6 metre head options which meet standard specifications making it directly interchangeable with other manufacturer's units. The pump can operate up to a maximum of 10 bar, can transfer liquids ranging from -10oC to +110oC in temperature and comes with two metres of pre-wired cable for fast installation.
In addition, the electronics and components of the pump are protected by the integrated over-temperature protection system which can automatically reduce the speed of the pump or bring it to a complete stop. The system will then try to re-start the pump once every minute to ensure it never overheats.
André Dhawan, President Applied Water Systems EMEA for Xylem, said: "10 to 15 per cent of all domestic electricity energy consumption is caused by heating circulators. With strict legislation in place around this topic, we wanted to offer a simple solution which not only maintains our high standard of pump performance but also helps reduce the use of energy. A very reliable circulator with no compromise in efficiency and reliability, but no costly bells and whistles. That makes the Lowara circulator an efficient and environment friendly circulator with very quick payback time. The pump pays itself in a very short period."