Xylem Launches New Energy Efficient e-HM Multi-stage Pump
Xylem is launching a new range of stainless steel, horizontal, multi-stage Lowara pumps with the introduction of its e-HM series specifically designed for residential applications.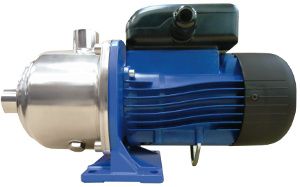 New energy efficient e-HM multi-stage pump (Image: Xylem)
The new e-HM pump is based on the same innovative hydraulic design as the popular vertical multistage e-SV series and boasts superior performance and efficiency characteristics which significantly lower lifecycle costs and increase energy savings. When combined with Xylem Hydrovar, the e-HM pump can offer up to a further thirty per cent energy saving compared to previous models.
The e-HM series has pump flow of up to 29 m3/h and can perform to a maximum pressure of 16 bars. The many configurations available mean the pump can meet specific needs of a range of residential applications such as water supply and pressure boosting through to heating, ventilation and air-conditioning.
Olivier Lamarie, Global Produt Manager Multistage of Xylem, said: "At Xylem we remain committed to developing new products which deliver greater efficiency and increased energy savings. The unique hydraulic design and versatility of the e-HM pump enables customer requirements to be met across a wide range of residential applications whilst remaining almost silent.
"The e-HM pump comes with superior levels of Net Positive Suction Head (NPSH) and a minimised impeller axial thrust which results in a longer bearing life. Due to the high grade stainless steel used, our new pump has WRAS/ ACS/ AS4020/ NSF61 approvals and can be used to pump potable water while providing superior corrosion resistance."
This e-HM pump is available as a single unit for installers, or as part of a "plug and pump" package, with either a tank and fixed speed controls or variable speed controls, for 'turnkey' solutions. The fixed speed option offers a basic solution with a larger tank. The variable speed option allows the speed of the pump to be adjusted in relation to requirement, noticeably reducing energy consumption. The variable speed option also prevents the development of water hammer when the pump system is stopped.