Wilo Introduces the Energy Label
In the past decade, European directives for energy classification in the area of household appliances and lighting have been introduced. Wilo now presents a similar energy-consumption label for heating circulators.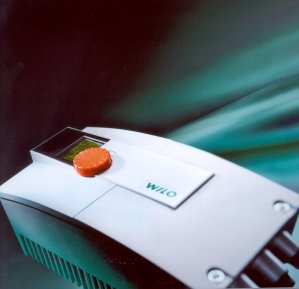 Wilo-Stratos, the first high-efficiency pump in the world classified as "A" (photo: Wilo AG).
In the last fiscal year Wilo, based in Dortmund, contributed decisively to the creation of a voluntary labelling system in the area of heating systems. In cooperation with the Association of European Pump Manufacturers Europump and three other manufacturers of heating circulators, Wilo has undertaken to provide standardised labelling indicating the energy classification. The new energy label displays the energy-consumption classes A to G and thus presents the consumption data of the pumps in a clear and easily understandable manner.
By using energy-saving pumps, the energy consumption in Europe could be reduced by 44 TWh by the year 2020 – more than twice the annual energy consumption of Berlin. Experts also estimate that this would be accompanied by a reduction in the CO2 emissions by 17.6 million tonnes. Particularly with pumps of the energy class A, the potential energy savings are enormous. This label is carried by the high-efficiency pump Wilo-Stratos: this pump, which was introduced in 2001, acted as the reference for the new energy label. In the Maritim Airport Hotel in Hanover, for example, the replacement of the conventional heating circulators with Stratos pumps reduced the electricity consumption by 82 per cent. The technical director of the Maritim Group, Michael Pfaff, said: "At Maritim, we place great emphasis on sustainability. For this reason, we did not hesitate to install high-efficiency pumps, not only in Hanover but also in other hotels of our group. The positive results of this action speak for themselves."
In an average detached house, the heating circulator is responsible for up to 15 per cent of the total electricity consumption. By converting to a pump such as the Wilo high-efficiency pump, up to 10 per cent of the electricity costs can be saved each year. With the introduction of the Stratos-ECO for smaller buildings in 2005, Wilo can now supply Class-A circulators for all types of buildings. The conspicuous labels are intended to make building operators, planners and contractors more aware of the available energy-efficient technologies. In addition, the new label makes it easier for heating fitters to convince their customers of the accompanying benefits.
"We are proud that we introduced the first Class A high-efficiency pump with the Stratos in 2001 and we would like to encourage other pump manufacturers to adopt this labelling system. If they do so, then we will all be setting a standard for more energy efficiency and environmental consciousness in the area of building technology," said Dr. Thomas Schweisfurth, Executive Board Member at Wilo.