Wilo and Hellmann Sign Contract for Global Logistics Cooperation
Germany-based pump manufacturer Wilo and the global full-service provider Hellmann Worldwide Logistics sign a contract to manage the Dortmund-based company's global movement of goods. For this purpose, Hellmann will operate a new central warehouse for production materials and finished goods near the Wilo headquarters from 2022 onwards, in order to ensure global distribution for Wilo and production supply for the new Dortmund Smart Factory from there.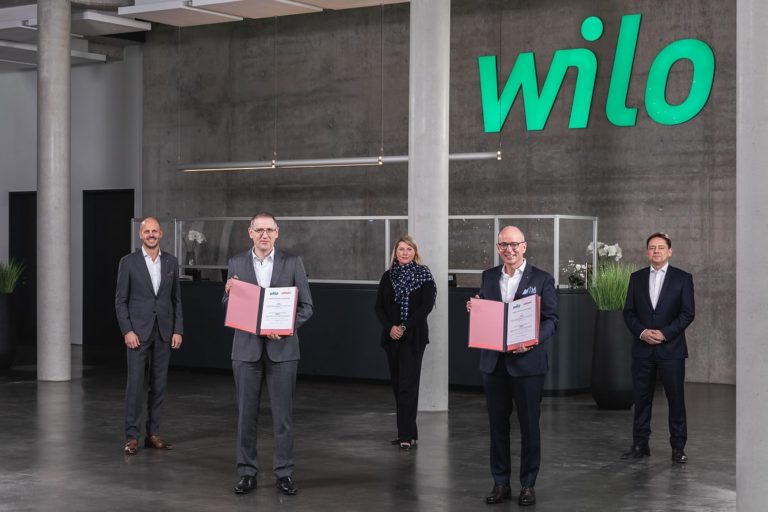 (left to right): Sven Eisfeld, Managing Director Germany Hellmann Worldwide Logistics; Georg Weber, Chief Technology Officer WILO SE; Stefanie Hirschmann, Senior Vice President Group Procurement & Supply Chain Management WILO SE; Volker Sauerborn, Chief Operating Officer Hellmann Worldwide Logistics; and Mathias Weyers, Chief Financial Officer WILO SE, at the contract signing at the Wilopark in Dortmund. (Image source: WILO SE)
Therefore, Hellmann developed a warehouse and logistics concept that is both future-proof and flexibly adaptable. The new central warehouse near WILO SE's headquarters will be strategically located in direct proximity to the Dortmund factory. It will also have excellent logistical connections to the European production sites and global sales markets. With Hellmann as an experienced contract logistics service provider, the Dortmund-based technology specialist will optimise its logistics processes across countries. At the same time, it will continue to drive forward its digitalisation strategy through the use of smart IT solutions that meet the requirements. For this project, the digital pioneer of the pump industry relies on the competence of its selected partner who has been able to demonstrably prove its expertise in the named subject area in the course of numerous customer projects.
This allows the two family companies to significantly expand their cooperation which has previously been limited to transport logistics. Based on this, the cooperation along the entire supply chain is to be expanded and a long-term strategic partnership is to be established in the future.
Together, both partners want to secure sustainable, profitable growth for the future – Wilo as a strong innovation and technology leader and Hellmann as a logistics partner that implements global transport & logistics concepts from a single source, thus ensuring a seamless supply chain.
"It was important to us to find a logistics company with a global footprint for a strategic partnership along the entire supply chain. Hellmann convinced us with an innovative overall concept that is in line with Wilo's growth strategy and, at the same time, supports the digital transformation of logistics processes. In addition, we have already come to appreciate Hellmann's proven expertise in the field of transport logistics through our previous cooperation," explains Georg Weber, Chief Technology Officer, WILO SE.
"We are pleased to be on a long-term growth course together with Wilo and to now be able to demonstrate our strength as a global full-service provider. Together, we will supply the global market with Wilo's quality products from 2022 onwards," says Volker Sauerborn, Chief Operating Officer Contract Logistics, Hellmann Worldwide Logistics.