Wilden Releases Pure-Fuse Diaphragms for Hygienic Applications
Wilden, part of PSG, is pleased to introduce Pure-Fuse Diaphragms that offer superior cleanability and higher performance for hygienic applications.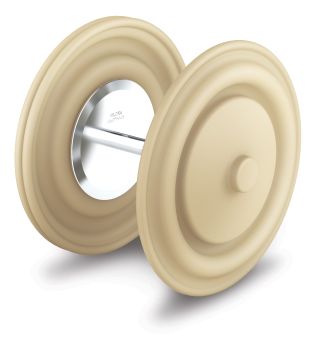 Pure-Fuse Diaphragms (Image: Wilden)
Pure-Fuse diaphragm technology incorporates a one-piece design that eliminates product-trap areas between the outer piston and diaphragm that can harbor bacteria, a critical consideration for hygienic applications. This patented design also provides an unbroken fluid-contact surface for exceptional clean-in-place (CIP) capability and reduced contamination risks. Pure-Fuse combines food-grade plastics and elastomers with a stainless-steel core using no adhesives or nylon fabric that can contaminate process fluids in the event of a breech. In addition, by eliminating the outer piston Pure-Fuse diaphragms experience greatly reduced abrasion, which results in longer diaphragm life.
An additional benefit of Pure-Fuse diaphragms compared to other cleanable diaphragms is the use of a large integral piston and full-stroke shaft that provide greater efficiency. This full-stroke configuration also allows the pump to achieve twice the dry vacuum and flow when compared to shorter-stroke CIP-capable diaphragms.
Wilden Pure-Fuse diaphragms are constructed of food-grade Wil-Flex™ (Santoprene™) that meets all FDA CFR 21.177, EHEDG, 1935/2004/EC and 3-A requirements. Wil-Flex features wide temperature limits, excellent flex life, high abrasion resistance and outstanding durability, even when handling acids, caustics and other aggressive fluids.
Pure-Fuse diaphragms are available in 25 mm (1"), 38 mm (1-1/2"), 51 mm (2") 76 mm (3") sizes with a temperature range from -40°C to 107°C (-40°F to 225°F).