WGM Engineering Become Hidrostal Regional Partners
Hidrostal UK has entered a partnership with WGM Engineering [WGM], one of Scotland's largest pump refurbishment companies.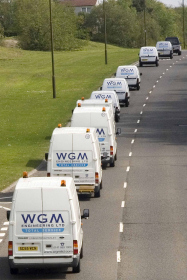 Hidrostal, UK.
WGM has become Hidrostal's Regional Partner for Scotland and will now sell, maintain and install the Hidrostal range of Screw Centrifugal Impeller pumps in Scotland.
Commenting on the partnership Steve Blakemore, Managing Director, Hidrostal UK said, 'This is a key partnership for us and supports our ongoing strategy to grow our pump business in Scotland, and enhance the service and support offered to existing users of Hidrostal pumps. The appointment of WGM means that pump users will have fast access to our range of pumps with the added benefit of local service and support".
WGM have a wealth of knowledge and expertise in pump repair and service gained from over 25 years in the business. Their services are offered to a wide variety of industries including petro-chemical, power and process as well as the water and wastewater sectors. The company employs over 60 personnel and currently operate from two sites in Livingston and Paisley. A new 10,000 square foot Service Centre in Glasgow is under development and will provide state of the art pump refurbishment and test facilities.
WGM Managing Director Ian Mathieson is equally as enthusiastic. "The growth and success of WGM has and will continue to be based on Service and Quality. We are delighted with our appointment as Hidrostal Regional Partners for Scotland, which will play a key role in the ongoing strategic development of WGM. Hidrostal are an internationally acclaimed pump manufacturer and the partnership means we are able to offer customers a range of quality pumps at affordable prices with minimal delivery times."
About Hidrostal UK
Hidrostal Limited, based in Newbury, Berkshire provide pumping solutions. All their pumps are based upon the unique and patented Hidrostal screw centrifugal impeller renowned for its ability to efficiently handle very delicate materials, thick and viscous liquids and untreated sewage without blocking. Hidrostal is focused on developing pumping solutions that reduce life cycle costs.
About WGM
WGM Engineering, based in Livingstone, Scotland provide pumps repair and maintenance services. Through a network of strategically located service centres WGM offers a complete service package for a wide range of products which includes pumps submersible and centrifugal, gearboxes, electric motors, mechanical seals and valves.