Voith to Modernize Zvornik Hydropower Plant in Serbia
Voith Hydro will extensively modernize the electromechanical equipment of the Serbian hydropower plant Zvornik, situated on the River Drina.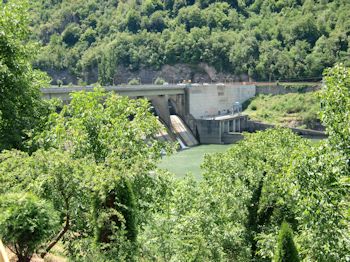 The Serbian hydropower plant Zvornik is situated on the River Drina. (Source: Voith)
Voith Hydro St. Pölten is replacing four generators and four Kaplan turbines, as well as the automation systems and the mechanical and electrical ancillary equipment. The contract signed with the customer in autumn 2013 is now coming into effect. The order volume amounts to EUR 65 million and it has been commissioned by the energy supplier Elektroprivreda Srbije.
"Voith supplied two turbines to Zvornik back when the plant was built 50 years ago. We are very pleased that we have once more gained the trust of Elektroprivreda Srbije to support the modernisation project. The Zvornik order will enable us to further consolidate our strong position in south-east Europe," commented Dr. Leopold Heninger, Managing Director of Voith Hydro in St. Pölten, Austria.
As a result of the extensive rehabilitation, the Zvornik power plant will once again enjoy cutting edge technology. After the modernization the power plant s performance will surge from 96 to 124 megawatts. The modernization of hydropower plants not only ensures much longer service lives but also improves performance and efficiency. It also reduces the maintenance costs for the operator in the long term.
Hydropower amounts to about 30 percent of Serbia's energy production. However, there is still high potential to develop this technology in the country: according to "The International Journal on Hydropower & Dams" more hydropower plants could be built with a total capacity of about 15,000 gigawatt hours.