Voith and China Three Gorges Corporation (CTG) Enhance Their Cooperation in the Hydropower Business
On 1 June 2017, Chinese Premier Li Keqiang and German Chancellor Angela Merkel together witnessed Mr. Lu Chun (Chairman of China Three Gorges Corporation) and Dr. Hubert Lienhard (President and CEO of Voith Group) signing an agreement in Berlin which enhances their further strategic cooperation in the hydropower business.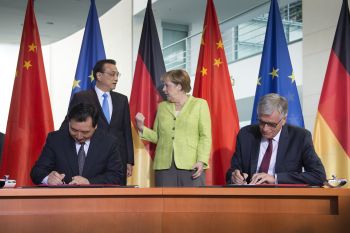 Lu Chun, Li Keqiang, Angela Merkel, Hubert Lienhard (Image: Voith GmbH)
China Three Gorges Corporation (CTG) is the world´s largest producer of hydroelectric power. In 2014, CTG acquired the sixth-largest hydroelectric complex in the world, the IIha Solteira and Jupiá power stations in Brazil, as part of a 30-year concession contract to carry out step-by-step modernization of existing power units, and in March 2017, Voith was awarded the EPC contract for the first four units after CTG's public call for tender. Voith will deploy state-of-the-art technology throughout the entire modernization process to lengthen the plants' lifetime and generate electricity with higher efficiency. As part of the new agreement both sides express the desire that such cooperation can be extended to other aspects of CTG's hydropower business in Brazil.
CTG and Voith have already established a mutual trusting relationship based on their successful cooperation during the Three Gorges project and Xiluodu projects, and Voith, in addition, is actively joining in on overseas projects with CTG. Both parties hope to enhance the implementation of sustainable hydropower development and also further local economic and societal development through such third-market cooperation.