ViscoTec eco-DUOMIX Dispensing System for all Difficult to Mix 2-component Materials
Utilized components, built-in technology, cycle time requirements and surrounding parameters on a production line - these are four attributes that almost always influence the quality level of adhesive connections in an industrial environment.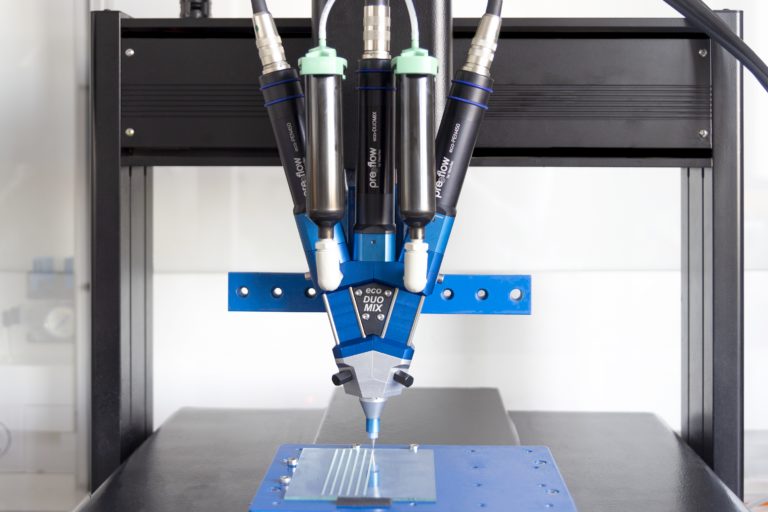 preeflow eco-DUOMIX450 in sample application. (Image source: ViscoTec Pumpen- u. Dosiertechnik GmbH)
To date, manufacturers from the automotive sector, electronics industry, and medical technology have been using individual mixing and dispensing systems. The dispensing systems provided are always best matched to the specific adhesive and the specified machine design, with the best results and maximum performance in mind. The problem: There are almost 40,000 adhesives with various processing parameters. preeflow - a ViscoTec brand - is now launching the compact eco-DUOMIX, a dispensing solution that can mix and dispense silicones (Si), epoxy resins (EP), polyurethane (PU), polyester resin (UP) or acrylate.
Currently, there are only a few mixing and dispensing systems that can be used to mix and apply all existing adhesives. The biggest challenge are components that are difficult to mix, since they usually have to undergo a longer mixing process in order to optimally bond. To fill this industrial gap, preeflow is now launching the eco-DUOMIX in full scale production. Difficult to mix two-component materials, for which purely static mixing was previously not sufficient, can now be successfully mixed. Instead of a mixing spiral, the eco-DUOMIX is equipped with a mixing capsule optimized for dead space, which can be used for dynamic mixing for the first time. Materials with the same and/or different viscosities were developed and evaluated. Mixing ratios ranging from 1:1 to 10:1 are technically possible. The eco-DUOMIX is designed for speeds up to 2000 rpm. Compared to the classic mixing spiral of other dispensing systems, the material consumption in the motor-driven mixing capsule is significantly lower, which has a positive effect on the overall cost, especially when using expensive materials.
Mixing capsule reduces installation space and delivers optimized material mixtures
In terms of dispensing quantities, preeflow is based on the already established systems from ViscoTec and allows a minimum dispensing quantity of up to 0.008 ml with the eco-DUOMIX, which can be applied with an accuracy of +/- 1 %. The dead space optimized mixing capsule used, instead of a mixing spiral, is available as a consumable and is installed directly at the outlet of the dispenser. Inside the capsule, the motor-driven mixer ensures optimized mixing, even of components that are difficult to process, even at small volume.
An exact application of even the smallest sealing beads is achieved by means of a replaceable dispensing needle, which is mechanically connected to the mixing capsule. This eliminates the need for time-consuming calibration processes and always delivers reproducible results. The technical implementation also results in a lower drip potential and thus significantly lower thread drawing problems on a component, which has a positive effect on desired cycle times. This aspect is underlined and demonstrated by the measurable linearity between rotor speed and output quantity. With the eco-DUOMIX, even if the density and viscosity of the components to be mixed vary once due to quality differences, the same dispensing result can always be achieved.
Issues such as adhesive type or viscosity become obsolete in the machine design phase, because they can now be handled flexibly and can be specified at a later point in time - basically before commissioning. To guarantee this flexibility, preeflow uses stator and rotor materials in addition to the mixing capsule, which are almost 100 % compatible with all adhesive types available on the market. The plug & play approach, and well-thought-out interfaces, promote fast system integration and easy commissioning. The eco-DUOMIX is the ideal dispensing solution when it comes to designing a system in which the dispensing of very small quantities of adhesive, increased cycle rates, and absolute accuracy is required.   This way, manufacturers can keep all options open for the 2-component materials to be implemented, right up to the last minute. In addition, this system is an ideal fit for medical technology, as well as the automotive, and electronics industries.
The eco-DUOMIX will be presented live for the first time at the Hannover Messe in April.