Verder Opens New Office in India
Verder International is proud to announce the opening of its latest office, Verder India Pumps PVT. LTD in Pune.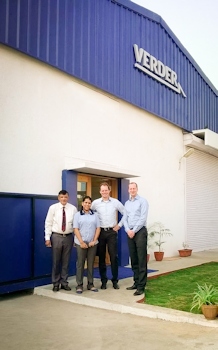 Verder Opens New Office in India (Image: Verder)
The building of 250 square metres is situated in Chinchwad in the North East of Pune and will showcase the group's extensive range of positive displacement pumps, offer sales support and have capacity for storage and service.
Mr. Rajnesh Kalia, Verder India Sales Manager, has been responsible for the sales, service, marketing and business development of Verderflex Products in India – direct as well as through channel partners.
After the initial market entry with the Verderflex peristaltic pumps, Verder India's product portfolio now also includes the VerderAir, VerderMix and VerderHus pump range.
Verder s first exhibition in India, Chemtech World expo, Mumbai, 2013, proved to be as successful as anticipated, generating large interest in both its Peristaltic Pumps and Air Diaphragm Pumps. The participation in the exhibition, combined with a distributor meeting, helped cement the group's presence in the Indian market and assisted in forming local distributor agreements with TechnoFlo, Anuvintech, Searock and Garnet Powertech.
With a central representative office in India, Verder looks forward to continuing its worldwide growth in this exciting and growing sub-continent by thinking globally while at the same time serving locally to the needs of every Indian customer.