Twin Screw Pumps for the Brewery and Beverage Industry from Jung Process Systems
Although breweries are predominantly utilizing centrifugal pumps there are a couple of critical steps during the brewing process which require the use of hygienic displacement pumps. This means essentially the transport of yeast.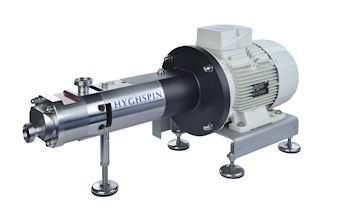 Hyghspin 70 twin screw pumps are especially suitable for gentle feeding of yeast (Image: Jung Process Systems)
For this challenging transport tasks, for instance for the yeast dosification or also for the yeast recuperation, Jung Process Systems offers Hyghspin twin screw pumps in different sizes. A well-known customer, for example, already uses since two years a Hyghspin 70-40 for the transport of beer yeast with double-acting flushed mechanical seal. The operational characteristics for product transfer and CIP cleaning demonstrate the versatility of the pump. At a temperature of 90°C the yeast has a viscosity in this special case of 320 mm²/s. The feed capacity amounts to maximum 11 m³/h at a differential pressure of up to 10,5 bar. During CIP procedure the same pump operates with max. 24 m³/h against 2 bar.
Due to the low shear effect and the axial feeding principle of these pumps the consistency of the yeast will not be affected. A safe process operation of the pumps over a wide range of viscosities and capacities is more than important because the viscosity of beer yeast fluctuates. This safety is guaranteed by exact pump design as to range of speeds and correct choice of the adequate feed screw pitch so that optimum results are achieved with Hyghspin pumps – also an excessive flow rate can damage or even destroy the yeast structure. Moreover the pump can be cleaned in-place. For this reason the Hyghspin pumps are especially suitable for those companies that prefer gentle and low pulsation transport of their products, using the same pump also for CIP cleaning.
On the occasion of the BRAU Beviale 2012 exhibition in Nuremberg Jung Pro-cess Systems inform on their stand in hall 6-406 about their sophisticated scope of twin screw pumps for the brewery and beverage industry. Interested visitors can inform themselves of the complete possibilities of applications and procedural advantages of the Hyghspin twin screw pumps.