Turbo TM – the New Pump Series for High Vacuum from Busch
Busch has now launched a new product line for the high-vacuum range: the Turbo TM turbomolecular vacuum pump. Busch offers these new vacuum pumps in a total of three sizes, from 1080 to 2200 l/s.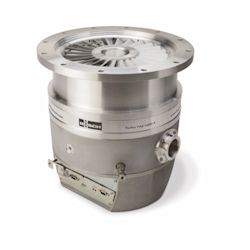 Turbo TM (Image: Busch Vacuum Pumps and Systems)
The Turbo TM series, which has been specifically developed for industrial high-vacuum applications, achieves an ultimate pressure of >1 x 10-10 hPa (mbar).
Designed for high pumping speeds and gas throughputs, the Turbo TM also offers full reliability for pumping light gases without operating fluids, thanks to the optimised compression. Not even high loads or unintentional gas break-ins impair the high pumping speed. The Turbo TM can be operated at any installation position. The compact rotor design is unmatched in its class and combines the highest possible suction performance with the smallest possible dimensions. The drive and control unit is fully integrated into the pump housing. Connections for sealing and flushing gases are provided as standard.
A special high-pressure stage enables a higher initial vacuum and therefore smaller backing pumps. The overall result of this is a more effective and more compact vacuum system for high vacuum generation. Busch always has the right backing pump whatever the application, with its rotary vane vacuum pumps from the R 5 and Zebra series and the Fossa scroll vacuum pumps. Turbo TM vacuum pumps are maintenance-free and the extremely hard-wearing ceramic bearings increase the life span to over 200,000 operating hours.
Busch has widened its portfolio in the high-vacuum range with the Turbo TM series and thus also offers ideal vacuum solutions for vacuum furnaces, surface treatment, coating machines and thin-film coating.