The G115D Strengthens Siemens' Play in a Fast-Growing Sector for Drives
Siemens has "dipped its toe" in decentralized architectures before with the G110D and G120D distributed inverter series but its newest foray, the G115D, is looking to further capitalize on the decentralized trend that companies like Lenze, SEW, and Nord have become known for over the last few years.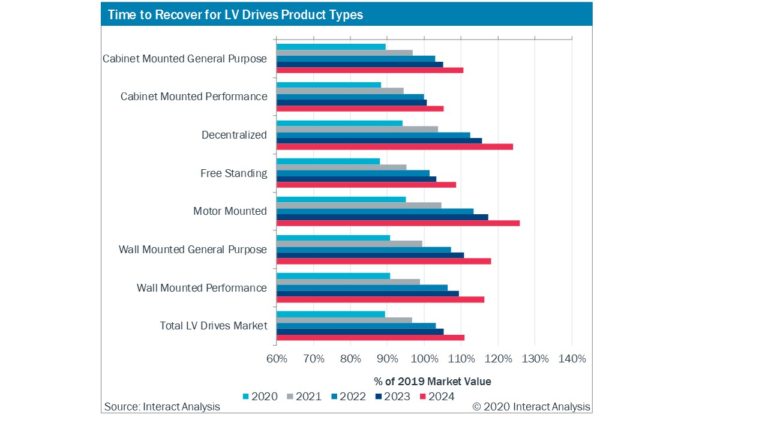 Image source: Interact Analysis
Decentralized drives have a high protection rating, are meant to sit directly next to the motors they are controlling, and are typically flat and wide. They are primarily found in intralogistics and material handling applications and although relatively small, in terms of global revenues, they have one of the highest year over year growth rates among all LV AC drive form factors today. We estimate the market for decentralized drives is growing at a CAGR of ~6 percent. This combination of fast growth and limited competition bodes well for Siemens play into this market as there is a consistent and growing need for the flexibility these drives present in modulating production lines.
Siemens had this focus on flexibility in mind, offering the same capabilities in two different form factors, motor–mounted (0.37 – 4kW) and wall-mounted (0.37 – 7.5kW). It classifies the latter model as "wall-mounted" but in our most recent syndicated report, the Low Voltage AC Motor Drives 2020, we define it as a decentralized drive. Decentralized and motor–mounted LV drives are only found in a very narrow range of three phase power ratings up to a maximum of 22kW. Siemens developed the G115D models to work in applications at the low to mid ranges of this scale where most units are sold. This strategy is taking aim at vendors, SEW and Nord, both of which have developed similar products, the MOVIMOT and VG 4000, respectively. Drives vendors keen on taking advantage of the rising popularity of the decentralized trend are seeing an advantage of selling a motor, frequency converter, and gearbox together as a turnkey solution. This relatively recent product concept is focused on space reduction, cost savings, and component compatibility; all highly important characteristics in horizontal conveying applications common in airports, warehousing, food & beverage, and post & parcel logistics.
Despite the short–term market dip in 2020 attributed to COVID 19, long–term net gains are expected for decentralized and motor–mounted drives. In 2021, we forecast ~10 percent YoY increase in revenue growth for both categories as business returns to a more normal state. In addition, we foresee that countries, governments, and companies will become more adept at handling flare ups in case numbers as collective knowledge and experience in battling the virus increases. This is reflected in our forecast by the returns to modest growth through 2024.
Siemens looks poised to take advantage of this upswing with the G115D as the popularity and prevalence of decentralized drive architectures are significantly increasing globally. Siemen's home country, Germany, has been especially dominant at catering to the decentralized trend and this factor has almost certainly been a major catalyst for the development of the G115D. For all three phase drives from 0-22 kW, decentralized and motor mounted make up 16.8 percent of Germany's market as opposed to 4.3 percent and 1.5 percent of the USA and China, respectively. This speaks to the early and wholehearted adoption of decentralized architectures in EMEA and helps to explain why the growth rates of these drives are generally much higher in the Americas and APAC over the forecast period.
One Final Thought
We fully expect this trend to continue and more products like the G115D to be released in the coming years. Demand for these types of solutions continues to persist in areas like airport logistics, post & parcel, warehousing, and other conveying applications. With relatively limited competition in this space compared to the broader motor drives market, Siemens is poised to pick up share in these applications by the sheer scale at which the company operates. This release is a smart move, and one that is reflective of a trend that continues to gain steam.
Author: Bowen Wilder, Research Analyst - US for Interact Analysis