Tecnocut and Jet Edge Announce Strategic Research and Development Partnership
Waterjet manufacturers Tecnocut S.p.A. of Bergamo, Italy, and Jet Edge, Inc., of St. Michael, Minn., USA, announced a strategic research and development partnership designed to strengthen both companies' position in the waterjet industry.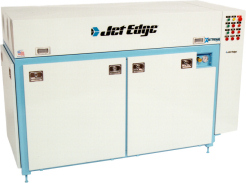 Jet Edge xp90-100 waterjet intensifier pump
Through this unique partnership, Tecnocut will share its innovative IKC 5-axis waterjet cutting technology with taper control with Jet Edge. In exchange, Jet Edge will share its 90,000 psi (6,200 bar) waterjet intensifier pump technology with Tecnocut. The companies also have agreed to partner on a number of innovative research and development projects related to waterjet pump design, multi-axis cutting and robotics.
"This is a win-win for both of our companies," said Jude Lague, Jet Edge president. "It gives Jet Edge the ability to meet the rapidly increasing demand for 5-axis waterjet cutting and taper control, and it gives Tecnocut the ability to meet the growing demand for X-Stream cutting pressure."
Tecnocut President Stefano Dal Lago shared Mr. Lague's sentiments.
"Working together, while maintaining our independence, Tecnocut and Jet Edge will be much more competitive players in the waterjet industry. We are now both able to deliver the latest technologies found in waterjet systems: 5 axis, taper control and 6,200 bar cutting for increased productivity and lower operating costs, while we work together to rapidly develop the innovative waterjet products of the future for our customers."