Technologically Advanced Emulsion Pump
Allweiler AG introduces the "EMTEC-A", a screw pump based on its proven EMTEC series. The new pump is designed specifically for moving emulsions and cooling lubricants, but extra-hard special steel and cast iron ensure safety and a high level of wear resistance even when pumping liquids that contain abrasives.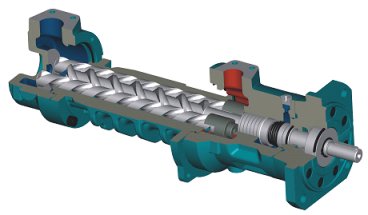 Previous EMTEC models have already earned the trust of automakers and major manufacturers of machining centers. In fact, BMW has been using these pumps exclusively since 2003 for moving cooling lubricants at its engine plants' flexible machining centers. The new pump has a special safety design and permits very flexible installation, but is still available at a competitive price. Stefan Werner is Allweiler's product manager responsible for EMTEC: "We reached our goal of creating a flexible pump that exhibits the highest quality and a very long service life. EMTEC-A manages to combine a low investment cost with low lifecycle costs."
In addition, this pump has six standard installation options, special materials with a hardness of 1200 HV for the spindle and rotor housing, complete hydrostatic thrust compensation for the spindles, and a variety of sealing systems, all of which make the pump ideally suited for use with tool machines. EMTEC is designed to pump emulsions, cutting oils, and cooling lubricants with efficiency greater than 80 percent throughout its long service life. Its special safety concept prevents sudden failure of the pump, which remains a risk with other, conventionally designed pump units.
Due to the special combination of materials, things like normal wear, impacts, and vibrations will not lead to sudden failure of the pump unit, as is possible with other materials like silicon carbide. EMTEC pumps have even exhibited unusual insensitivity to unfavorable start-up conditions that can lead to dry running or incorrect direction of rotation.
Furthermore, they are significantly more tolerant to gas-laden liquids than conventional pump units. Finally, Allweiler's global sales and service network ensures that expert service technicians can arrive quickly at the customer's location and installers can be trained on-site to perform regular maintenance tasks.
These pumps move up to 900 L/minute with pressure as high as 130 bar. Maximum contamination level is 250 mg/L. Maximum filter fineness is 100 ìm. EMTEC pumps are available in several versions: a submersible version for installation in containers; with a discharge flange above the tank plate for installation on a tank; or with a mounting foot for dry installation away from the container. In each case, pipe-thread connections and an axial suction port provide for simple installation. Version "D8.6" of "EMTEC-A" with a maintenancefree silicon-carbide mechanical seal is shown here.