System Technology for Wastewater Treatment: Aerators and Mixers
Wilo presents its system solution for purification processes within biological wastewater treatment. When used together with the energy-efficient mixer technology from the manufacturer, the new Wilo disc aerator ensures optimal and cost-efficient operation.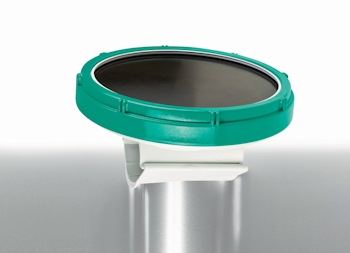 Wilo disc aerator (Image: Wilo)
In the activated sludge method, 60 - 80% of the total energy consumption of the wastewater treatment plant is used for the processes within the purification stage. When constructing or modernising activated sludge tanks, it is therefore important that ventilation and mixer technologies are optimally matched. This permits the energy consumption to be minimised and system efficiency to be increased.
The newly-developed ventilation systems from Wilo are planned and designed individually for each project and delivered in modules prepared in the factory. Depending on the ventilation power required, an appropriate number of disc aerators are installed on pipes which then supply them with compressed air.
The marked characteristics of Wilo disc aerators are their robust construction as well as their flow-optimised design. They permit the best possible utilization of oxygen due to an optimised diaphragm perforation and their flexible and highly cost-efficient control range. The residence time of the rising air bubbles and the shearing rate at the contact surfaces can thereby be improved.
Heavy-duty diaphragm mounts also ensure homogeneous air distribution around the circumference of the diaphragm. Radial air guidance increases the lifetime of the diaphragms. To prevent the entry of wastewater, the Wilo disc aerators are fitted with integrated non-return valves. Their compact, modular design allows them to be easily installed and maintained. No special tools are therefore required for on-site installation. Additionally, a special separation ring facilitates diaphragm replacement during servicing.
The sewage is mixed by submersible mixers from the "Wilo-EMU Maxiprop / Megaprop" series that have been individually matched to the basin geometry and for the positioning of the ventilation units. With their power-saving asynchronous motors (efficiency class IE3) and flow-optimised blade shape, they are highly efficient and economical in operation in comparison to conventional designs. Their special, backward curved blade geometry provides a self-cleaning effect of the propeller. This improves operational reliability while simultaneously reducing maintenance costs.
The Wilo complete system comprising of aerators and submersible mixers from one source guarantees that both components harmonise perfectly with each other. This is because both of these technically demanding areas are already optimally adjusted to each other in the planning phase to ensure their best-possible interaction.
The common configuration of the system components to the requirements on hand also increases the total efficiency of the system. Furthermore, provision of mixer and ventilation technology as a complete system has an important added advantage for the operator: a central contact person for the entire system.