Superior Priming Capabilities
Iwaki America Inc. announces their enhanced SMD Series non-metallic, magnetically driven pumps now offer superior priming capabilities with more options.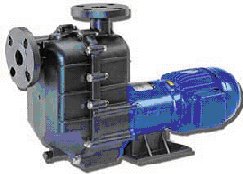 The popular SMD pump line has been expanded to include larger sizes and more material options. Its superior priming capabilities now prime up to 13 feet in less than 3 minutes! Cutting edge bolted design, true air separation chambers and integral priming chamber, allow SMD to function with only one prime.
Iwaki America's SMD self-priming pump line now has flow range capabilities to 124 GPM and head capabilities to 66 FT. Using field proven pin-point bearing technology, the SMD product allows for repeated dry-run operation. Wetted material options include GFRPP(Polypropylene) and now CFRPVDF for expanded chemical handling opportunities.
With up to 3 HP magnet/motor ratings, the SMD is rated for product S.G.'s to 1.3 and operating temperatures to 176 F. All SMD designs allow for use of any NEMA C-Face motor providing flexibility in enclosure and voltage options.