SMC's ZKJ Series Fieldbus Compatible Vacuum Unit Offers Comprehensive Remote Control and Monitoring
Vacuum technology offers many advantages for a wide variety of industrial applications. Process reliability plays an important role here: it depends on whether vacuum generation and -maintenance can be guaranteed.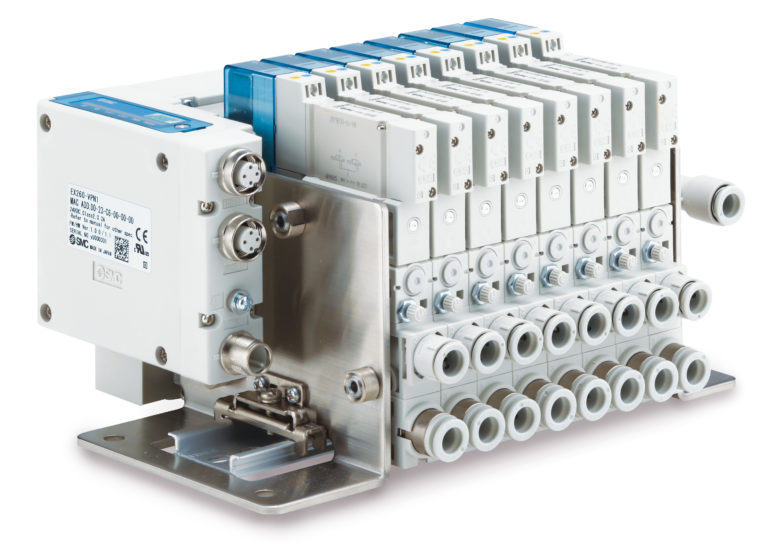 The fieldbus-compatible vacuum unit of the ZKJ series impresses with comprehensive(Remote) control and monitoring capabilities, reduced air consumption by up to 90% thanks to the energy saving function and a wide range of safety functions. (Image source: SMC Deutschland GmbH)
With the fieldbus-compatible vacuum unit of the ZKJ series, SMC shows how these and other requirements can be combined in one device. The new solution has PROFINET-capable communication, which enables extensive (remote) control and monitoring. In addition, users get a high suction volume flow with low energy consumption at the same time.
From transfer and conveyor systems to automatic assembly machines to packaging and unpacking: applications with vacuum technology have become established throughout the industry. In order to ensure high process reliability, efficiency and energy saving, SMC has developed the ZKJ series vacuum unit for fieldbus systems. Thanks to the extensive (remote) control and monitoring capability, companies benefit from shorter cycle times, safe applications, time savings through the possibility of remote monitoring of the vacuum system and improved energy efficiency, among other things. Further advantages result from the modular structure as well as the compact and light construction design of the vacuum unit, the protection class IP65 as well as the simplified cabling and tubing. Compatibility with modern fieldbus systems also ensures that applications will continue to be Industry 4.0-ready in the future.
Full control and transparency
Thanks to communication via PROFINET, comprehensive (remote) control and monitoring of components is possible through integration into the PLC - without a separate input and output unit. For example, the vacuum can be generated exactly as required, while the simultaneous extensive data check also quickly detects malfunctions remotely. This enables predictive maintenance and condition monitoring to be established in a plant, prevents failures and saves time. The PROFINET protocol also reduces the effort involved in cabling and tubing - on the one hand, due to fewer cables and, on the other hand, due to access from only one side. In addition, the "Shared Device" function allows the I/O data connected to an SI unit to be controlled and monitored by multiple I/O controllers (PLCs) - this allows information to be shared with up to three controllers in addition to the PLC exchange. A quick restart, e.g. after a tool change, is possible using the quick start function of PROFINET: a maximum of 0.5 s elapse between switching on and the communication connection. The result is a clear time saving during commissioning and thus higher productivity.
Smartly designed energy saving fox
The fieldbus-compatible vacuum unit of the ZKJ series also impresses when it comes to energy consumption: an energy-saving function reduces air consumption by up to 90%. On the one hand, this is based on a built-in non-return valve that maintains the vacuum pressure on workpieces with minor leaks. On the other hand, the fieldbus module monitors the vacuum and automatically switches off the supply valve as soon as the vacuum has reached its setpoint - and switches it on again if necessary. At the same time, the valve is protected from overstressing by a valve protection function by deactivating the energy-saving feature after a preset number of vacuum generation/ventilation cycles.
The modular design of the vacuum unit of the ZKJ series means that not only can up to 16 ejectors be centrally supplied with compressed air and energy, but at the same time different vacuum circuits can be set up to enable easy handling of different parts. The weight for a vacuum unit with 4 stations is only 1.7 kg. This ensures a low moment of inertia - ideal for mobile applications (e.g. robot arm) with high dynamics and stability at the same time. In addition, various functions create a high degree of safety: First and foremost, a supply valve in the N.O. version ensures that the vacuum is maintained even if the power supply is interrupted. In addition, a filter element that can be replaced in just two steps protects the entire system from foreign particles. The IP65 degree of protection enables use in dust and water jet endangered environments and an optional high-performance silencer reduces the noise level for improved occupational safety.
Strong partner for various branches of industry
With a maximum vacuum of -89 kPa and available with various nozzle diameters (0.7, 1.0, 1.2 and 1.5 mm) and suction flow versions, the ZKJ series is ideally suited for processes in various industries: from automotive and machine tool construction through the food, beverage and packaging industries to medicine and pharmaceuticals.