Siemens Supplies Digitalization Package for the next Simotics SD Motor Generation
With the latest generation of its Simotics SD (Severe Duty) motors, Siemens is offering a digitalization package to address the future challenges facing the world of drive technology. The new design is based on a robust, compact gray cast iron low-voltage motor with high power density. Its future-oriented energy efficiency concept is designed to provide a competitive boost to customers and users.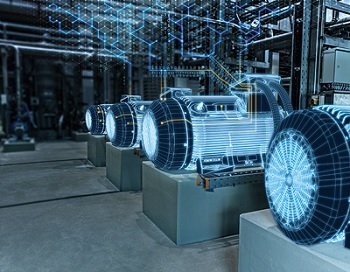 The next generation of Simotics SD motors from Siemens offers a comprehensive digitalization package to meet future challenges in drive technology. (Image: Siemens)
Their extreme resistance makes the Simotics SD low-voltage motors suitable for applications in harsh environmental conditions involving exposure to dust, vibrations or aggressive atmospheres. These benefits make the motors ideal for applications in the petrochemical and general process industries.
The new compact, highly space-saving Simotics SD motors are available in sizes 315 and 355. The new design with its exceptional heat dissipation complies with the stringent efficiency demands of efficiency classes IE3, IE4 and IES2 without compromising power density. The new, highly flexible terminal box concept allows the motors to be simply adapted to any mounting location. Siemens offers highly favorable delivery periods of between just 15 and 20 working days.
In future, the new Smart Motor Concept will enable simple analysis of motor status data in MindSphere. Depending on their length of service and the loads placed on them, drive components such as motors are exposed to varying levels of wear and continuous abrasion. The strains can often remain invisible to the naked eye for quite some time, leading to outages and unscheduled downtimes which can result in incalculable financial losses. Smart Motor Concept and MindSphere enable the relevant motor data to be accessed anywhere around the world. The transparency gained using this technology enables improved productivity throughout the entire customer process, for example as a result of increased availability, improved performance and optimized servicing activity.
The DataMatrix code placed on the motor as standard enables machine-readable motor identification and – for instance using a smart device – rapid access to motor-related information such as the electronic rating plate, with a range of associated benefits including simpler commissioning and spare part order placement. The use of a digital twin also makes available valuable aids such as 2D drawings and 3D models.