Siemens Presents Simotics Motors for Operation with Sinamics Frequency Converters
On the basis of the motor platform 1LE1, the Siemens Drive Technologies Division is now introducing motors specially for frequency converter operation.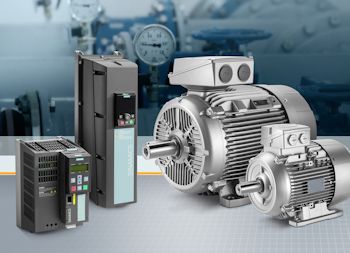 On the basis of the motor platform 1LE1, the Siemens Drive Technologies Division is now introducing Simotics VSD10 motors which are optimized for operation with Sinamics G120 frequency converters. (Image: Siemens)
The motors in the VSD10 series are available with both aluminum housings (Simotics GP) and cast-iron housings (Simotics SD) and they cover the output range from 2.2 to 200 kW. As a central component of Integrated Drive Systems, the motors are optimized for operation with Sinamics frequency converters so as to achieve maximum possible system utilization. Thanks to optimum coordination of components, a cost-effective overall system has been developed that is distinguished by reliable operation and high availability.
The VSD10 motor line is an integrated drive system with Sinamics drives. The Sinamics G120 series covers the majority of focus applications such as pumps, fans, compressors and conveyor systems. As the motor windings are adapted to the power modules of the frequency converters an optimal utilization of the system will be achieved. The motors also possess special features such as temperature sensors and insulated bearings for large shaft heights. These contribute towards boosting the drive components useful life and thus their availability. Thanks to speed control, the integrated system demonstrates its advantages in applications in the partial load range. This results in energy-saving operation, especially if the inverter s energy saving functions are also used.
The strengths of the integrated solution are also apparent during commissioning. Thus, the motor code located on the rating plate provides pre-defined parameter settings for Sinamics converters. This reduces complexity and costs of commissioning and avoids input errors. The drive system can be integrated easily into the TIA Portal via Profinet.