Siemens Extends Its Range of Simotics Standard Induction Motors
Siemens has extended its range of 1LE1 line motors. Simotics General Purpose motors are now available in shaft heights180 and 200 for outputs up to 45 kilowatts.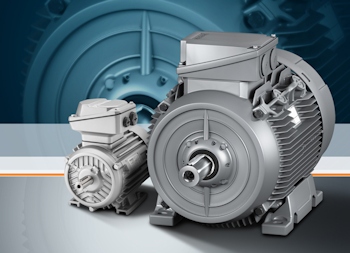 Simotics Standard Induction Motors (Image: Siemens)
At these shaft heights, motors with an aluminum housing are significantly lighter than motors with a cast-iron housing, and offer mechanical and static advantages for the machine, particularly in fan applications. Furthermore, all aluminum motors are now available in efficiency classes IE2 and IE3. To meet the requirements of the process industry for a comprehensive range of rugged cast-iron motors, Siemens is now offering the Simotics Severe Duty motor series in shaft heights 71, 80 and 90 from an output of 0.09 kilowatts.
As from January 1st, 2015, efficiency class IE3 will become mandatory for all direct on-line motors. To comply with these requirements, all motors with an aluminum housing in the Simotics General Purpose 1LE1 series are now available in IE2 and IE3. Simotics GP motors with new shaft heights also weigh around 25 percent less than their cast-iron counterparts. This offers static advantages for the mounting of the motor, especially in the case of fans suspended on special mechanical constructions.
With the expansion of the Simotics Severe Duty portfolio Siemens now offers a comprehensive range of cast-iron motors from shaft height 71 up to 315. Besides a standardized design and handling, the motors are available with a wide range of options, and in various efficiency standards worldwide. As the Simotics GP and SD motor series can be either line or converter-fed, they provide a high degree of flexibility, important among others for retrofit projects.
Simotics motors are suitable to be used in all industries, particularly in the chemicals, oil and gas, water/wastewater, mining and heating, ventilation and air conditioning sectors. Here, the asynchronous design constitutes a reliable technology for pump, fan and compressor applications. While General Purpose motors are appropriate to be used in day-today applications under standard environmental conditions, Severe Duty motors, with their rugged cast-iron housing, fulfill the more demanding requirements found in the paper and printing industries as well as the chemicals and petrochemicals industries.