Sewage Pump Station Supplied for the Cobre Panama Project
Dynapumps recently supplied a Sewage Pump Station for Cobre Panama, a large open-pit copper development project in Panama, Central America.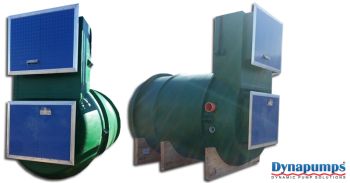 Dynapumps
The project is three open pits with ore mined and processed by grinding, crushing, flotation recovery and concentrate dewatering. The copper concentrates are delivered by the slurry pipeline from the concentrator to the filter plant at a port facility on the Caribbean coast. When the project is fully operational, the mine can produce more than 320,000 tonnes of copper per year with an expected 30 year mine life.
The equipment consisted of a 2200mm diameter and 3750mm high FRP underground pump station with standby Grundfos SEG Pumps. For access, Class A aluminium access covers were installed which included fall protection grating on both tank and valve box. The standalone stainless steel control panel were built to the clients specifications for automatic operation based on level floats. All PE piping and valving pre-assembled for ease of installation on site.